Bernard "The Executioner" Hopkins is Planning for a Boxing Comeback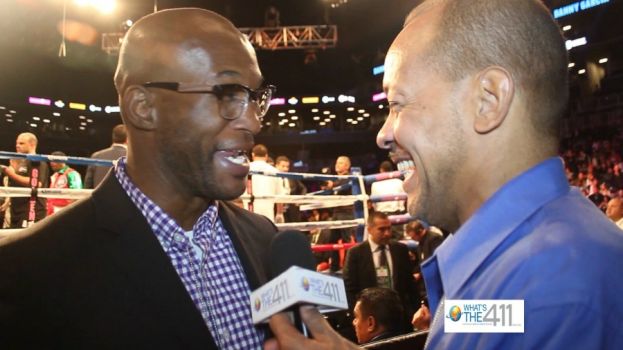 Photo Credit: What's The 411 Networks
Professional boxer Bernard Hopkins talking with What's The 411 reporter Andrew Rosario
Boxing legend Bernard Hopkins chats with What's The 411 correspondent, Andrew Rosario at the Garcia vs. Morales fight, the first professional boxing match held at the Barclays Center in Brooklyn.
In this video, Bernard "The Executioner" Hopkins speaks about how the Barclays Center is destined to give positive energy to Brooklyn and positive energy is what Brooklyn needs.
Hopkins paid homage to Brooklyn natives Jay-Z and Zab Judah. The Executioner says he's not done and he fully expects to grace the ring at the Barclays Center sometime soon.
Hope you weren't banking on his retirement. The champ hopes to keep that title in this newly anticipated fight.
The video includes scenes of the Barclays Center on fight night which includes: Mike Tyson, Danny Jacobs, Avery Johnson, DJ Enuf and the Mob wives.
Check it out.
WATCH VIDEO: Boxer Bernard Hopkins