US Patent Office Cancels Trademark for Washington Redskins Football Team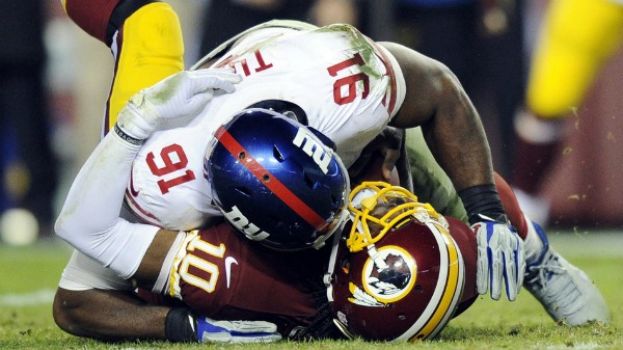 Photo Credit: Nick Wass/Associated Press
New York Giants defensive end Justin Tuck (91) sacks Washington Redskins quarterback Robert Griffin III (10) during the second half of an NFL football game Sunday, Dec. 1, 2013, in Landover, Md.
Give this round to Native Americans and their supporters.
The U.S. Patent and Trademark Office canceled the trademarks for the Washington Redskins team's name on Wednesday.
Team owner Dan Snyder has come under increasing fire recently for refusing to change the team's name, which is widely seen as insensitive to Native Americans.
The decision from the U.S. administrator read, "We decide, based on the evidence properly before us, that these registrations must be cancelled because they were disparaging to Native Americans at the respective times they were registered," the board wrote in its opinion, which can be found here.
The ruling does not force the team to abandon the name, but does allow others to use it without risking patent infringement litigation.
The move affects six registrations and was brought about by a petition from five Native Americans. The office found that "a substantial composite of Native Americans found the term REDSKINS to be disparaging in connection with respondent's services during the relevant time frame of 1967-1990."
Amanda Blackhorse, one of the people who filed the case, told Think Progress that she hopes this move helps spur a new name for the team.
"It is a great victory for Native Americans and for all Americans. We filed our petition eight years ago and it has been a tough battle ever since. I hope this ruling brings us a step closer to that inevitable day when the name of the Washington football team will be changed," she reportedly said.
This is not the first time the patent office has revoked the team's trademark on the name. A 1992 ruling by the administrator was overturned by a U.S. District Court in the District of Columbia. The Native American legal team appealed the District Court's ruling to the U.S. Supreme Court. However, the high court refused to hear the case and issued a one-line ruling.
The team name has been a point of controversy for decades, but recent calls for it to be changed have grown louder. Even a commercial aired during a recent NBA Finals game urging the team to change its name. The team's owner has rejected those efforts.
A Twitter campaign by the team to mobilize its fans around the name failed miserably. The team tried to get fans to tweet Senate Majority Leader Harry Reid to show pride for the team. However, the backlash against the team and the Twitter campaign was swift and furious.
The team is confident that it will prevail on appeal.
What do you think? Will the Washington football team ultimately change its name? If the matter goes to federal court again, will the USPTO ruling stand or fall?