Todd Bowles Gets Call to Coach New York Jets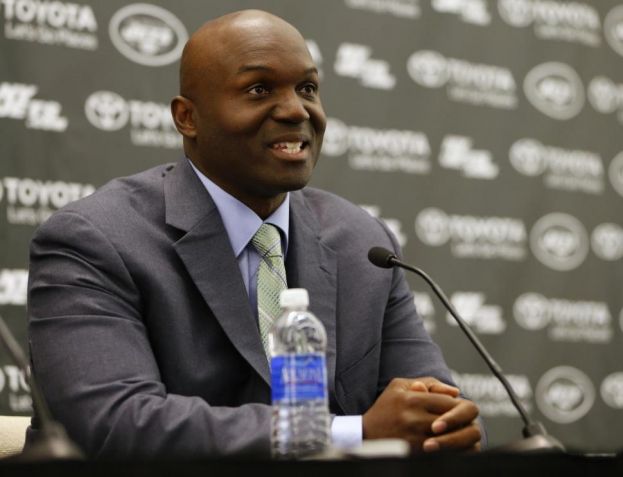 Photo Credit: Rich Schultz/GETTY IMAGES
Todd Bowles, New York Jets new head coach, addressing the media.
Rex Ryan Fans Time to Get Over It
It's Todd Bowles' turn! After a condensed search for a successor to New York Jets head coach Rex Ryan, the New York Jets chose Todd Bowles, the former defensive coordinator for the Arizona Cardinals. In less than a New York minute, Bowles will now lead Gang Green for the next four years.
Rex WHO??
Reportedly, the search included John Fox (former Broncos Head Coach), Dan Quinn (Seattle Seahawks defensive coordinator) and Gary Kubiak (Baltimore Ravens offensive coordinator).
With Rex moving up north and moving on to coach the Buffalo Bills, the Jets now have a new captain to steer its ship into the land of optimism.
And hopefully progress.
And more wins.
In Arizona, Bowles led the No.1 rushing defense in the NFL (84.4) in 2013 and the No.4 ranked passing defense (198.0) this past regular season.
Fortunate enough to have one of the best corner-back tandems in the league in Patrick Patterson and Antonio Cromartie in the secondary, it's safe to say that Bowles, the former defensive coordinator, knows a little bit about defense.
However, as a head coach, we do not know yet, as the sample size is rather small.
In 2011, Bowles coached the secondary and served as the interim head coach for the Miami Dolphins.
In his short stint, which spans over the course of three games, Bowles achieved a .667 winning percentage, going 2-1.
Well that can't hurt.
Another upside to Bowles is that he is a local native of nearby Elizabeth, New Jersey.
He knows the area, the New York media and hopefully, he will be comfortable.
Bowles is an unknown with a clean slate; but are the Jets in a position to take a risk?
The Jets have not experienced serious post-season football since the two-year 2009-10 stretch in which Rex led this team to two straight AFC Championship games, only to come up short in back-to-back years.
The fan-base has grown frustrated with the team most popular for finding new ways to lose games (the butt fumble) than secure wins in its most recent team history.
The down-side to Bowles is that, he is a defensive guy.
No, not again!!! Could he be the ghost of Ryan?
Same story, different character.
In the last two years of Ryan's tenure as the New York Jets Head Coach, the team rushed the ball fairly well. It ranked 3rd overall this past season (142.5 yards per game) and 6th overall in 2013 with (134.9).
The Jets passing attack was non-existent as they have qualified for dead-last in the league the past two years.
Sorry Geno.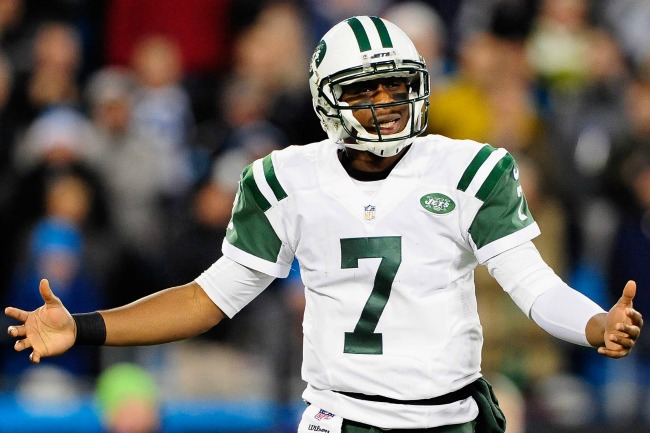 Geno Smith, New York Jets, Quarterback
Maybe Bowles, unlike Ryan, will give a crap about how the offense will be orchestrated here in New York.
Maybe Bowles knows a little more than Ryan about actually getting the football in the air for a change.
Gary Kubiak, unlike Ryan and Bowles is known for his offensive repertoire. Kubiak was my choice because it would have signaled a clear departure from Ryan and it would have excited this franchise.
But for now until his contract expires, Bowles is our guy.
So we're probably not going to trade up for WR Amari Cooper of the Alabama Crimson Tide are we?
It would've been nice, but almost anything that can associate the Jets with change is a good thing, and with this hire, the Jets are doing just that.