Cardale Jones: Ohio State's Unexpected Champion
Ohio State's 3rd String Quarterback Cardale Jones Wows the World of College Football
This was the first year for the highly anticipated College Football Playoffs and they didn't disappoint. While there are plenty of supporters and haters who will debate how many teams should or may ultimately be included and the more subjective preseason and weekly ranking of the top 25, most feel that with few hiccups, the final four and championship game was a resounding success.
The 2014 story of the first CFP National Champion Ohio State Buckeyes is one Hollywood couldn't have scripted. With the BIG 10 Conference, as a whole, being downgraded to a supporting actor role, the Buckeyes were nobody's pick to be in contention come December. When it was clear that their two-time Conference MVP and Heisman Trophy prospect, QB Braxton Miller, would be lost for the season, it was a foregone conclusion that this was a rebuilding year. And even with the promise backup QB J.T. Barrett showed, an early loss to unranked Virginia Tech, seemed to validate fears of a mediocre season. But with each passing week came a win and J.T. Barrett quickly opened eyes and received praise even positing that he may be a more complete QB than his predecessor.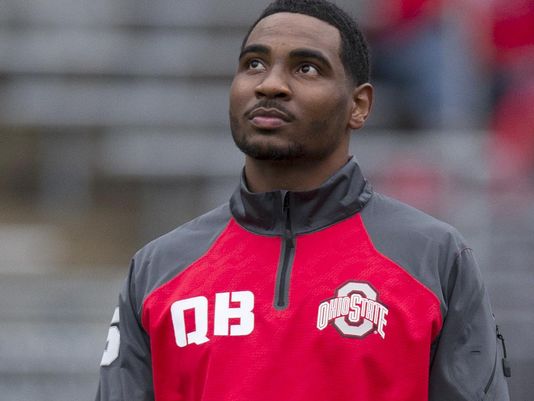 Ohio State quarterback Braxton Miller. Photo Credit; USAToday.com
With a closely ranked and defensively stout Michigan State team looking like the class of their division, everyone circled that clash as the make or break game for head coach Urban Meyer and his underdogs. That game at Michigan State was a coming out party for J.T. Barrett, who had his best game and cemented him as a top contender for the Heisman. Then the roof caved in. J.T. suffered a season-ending broken ankle in the final minutes of their victory over longtime rival Michigan and with it, seemingly their hopes of a possible playoff berth and Heisman glory for the outstanding 2nd stringer.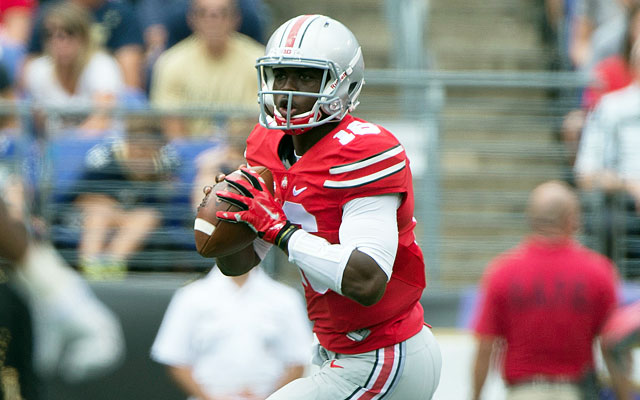 Ohio State back-up quarterback J.T. Barrett. Photo Credit: cbssports.com
Now they faced their biggest challenge sending their third string QB Cardale Jones, into the BIG 10 Conference Championship against the Wisconsin Badgers and running back sensation Melvin Gordon. It was the sophomore's 1st start and it would determine if Ohio State could finally crack the CFP top four. At 6'5" and 250 lbs., Jones looked the part and played like a third year veteran with ice water in his veins, they stomped them 59-0 and it wasn't even that close!
With that win, Ohio State catapulted into the fourth and final CFP playoff slot and went on to beat top-ranked SEC powerhouse, Alabama. In the semifinals and in his third start ever, Cardale Jones led his team to victory over undeserved Heisman Award winner (sorry), Marcos Mariotta, and his Oregon Ducks for the National Championship.
In an instant, Cardale Jones became a QB phenom. Jones' other-worldy gameplay on college football's biggest stages, and his projection as a raw NFL talent with crazy upside, had three days to decide if he would declare for the NFL Draft. But the big winners were the fans and college football. Without the subjective decisions by the CFP Committee to put Ohio State in the 4th slot, the computers would have missed them and we would have missed this amazing Cinderella dream of a journey...but what a nightmare for Coach Meyer, who's your starter next year??! Oh yeah, by the way, did I mention that all three outstanding Heisman worthy Ohio State QBs are BLACK!...just FYI