What's The 411Sports Episode 77: NFL Week 3; Tom Brady or Bill Belichick?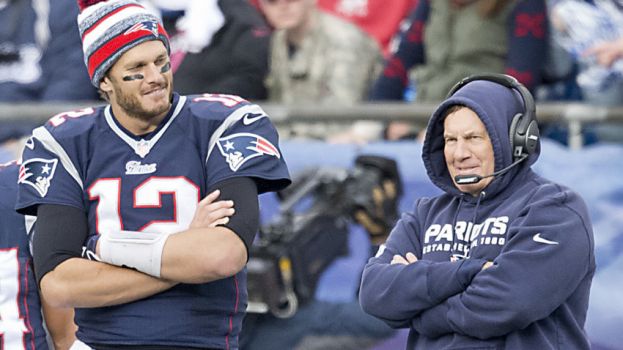 Photo Credit: Matthew J. Lee/The Boston Globe
New England Patriots quarterback Tom Brady and Patriots head coach, Bill Belichick
The Kaepernick Effect; Odell Beckham Jr. - Josh Norman; Ryan Fitzpatrick measuring up? Will Derrick Rose Trial impact Knicks? Will the Nets Bring the Buzz
In this episode, the What's The 411 Sports team of Keisha Wilson, Mike McDonald, and Amsterdam News reporter, Vincent Davis are talking about:
Quick Bites
Miami Heat team president, Pat Riley, says Chris Bosh will no longer play for the Miami Heat
Kevin Garnett is retiring this year after 21 years in the NBA
Tom Brady living a good life on suspension; he's staying in shape with his supermodel wife, Gisele Bundchen, and paling around with Jim Harbaugh on the campus of his alma mater, the University of Michigan
What's Poppin'!
• NFL Week 3
• Is it Tom Brady or Bill Belichick?
• The Kaepernick Effect
What's The 411Sports New York Sports Report
• NY Jets
• NY Giants
• Odell Beckham vs. Josh Norman
• NY Mets and the MLB Wild Card Race, can the Mets pull it off?
• Derrick Rose Civil Trial and its Impact on the Knicks
• Jeremy Lin is a marketing buzz magnet. Will the Brooklyn Nets Create Some Buzz this Season?
On The Bench
On the What's The 411Sports bench this week are Steve Clevenger and Mike Ditka.
Steve Clevenger on the Bench
Seattle Mariners catcher Steve Clevenger is on the bench because on his Twitter comments that called the Black Lives Matter protestors and President Obama pathetic and further declared that "everyone involved should be locked like animals". The Seattle Mariners dismissed Clevenger for the rest of the season. Clevenger has since issued an apology.
Mike Ditka on the Bench
Mike Ditka is on the bench for making the following comments:
"I have no respect for Colin Kaepernick – he probably has no respect for me, that's his choice. My choice is, I like this country, I respect our flag, and I don't see all the atrocities going on in this country that people say are going on."
Ditka added, "I see opportunities if people want to look for opportunity – now if they don't want to look for them – then you can find problems with anything, but this is the land of opportunity because you can be anything you want to be if you work. If you don't work...that's a different problem."
Perhaps, these two, Clevenger and Ditka belong in the What's The 411Sports Dog House.
In Memoriam
We also bid a sorrowful farewell to Florida Marlins catcher Jose Fernandez; the legendary golfer Arnold Palmer, and actor Bill Nunn, who is best known for his role as Radio Raheem in the Spike Lee movie, Do The Right Thing.