Anthony Anderson Set to Emcee Justin Tuck's Billiard's Tournament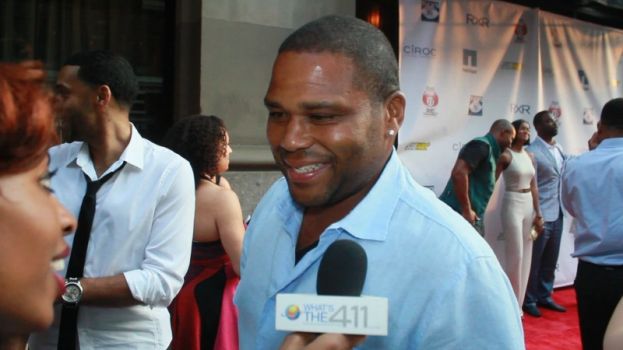 Photo Credit: Alexis Williams/What's The 411 Networks
Anthony Anderson attends billiards tournament to raise money for Justin Tuck's R.U.S.H for Literacy
Anthony Anderson set to entertain at Justin Tuck's R.U.S.H for Literacy
Actor, comedian, and writer, Anthony Anderson took a moment during the blistering heat to talk with What's The 411's Crystal Lynn about why he is supporting Justin Tuck's, R.U.S.H for Literacy Celebrity Billiards Tournament.
New York Giants' Justin Tuck hosted his annual Tuck's Celebrity Billiard's Tournament presented by RXR, a leading New York Tri-State real estate operating company, on Thursday, May 30 at Slate NYC.
The event has been a popular fundraiser in Manhattan for the past four years. More than 35 celebrities were expected to take part in a single elimination 8 ball tournament, emceed by well-known actor Anthony Anderson, in which the winner will receive the Grand Prize Luxury Package that will benefit Tuck's R.U.S.H for Literacy and the United Way Hurricane Sandy Recovery Fund.
Tuck, a Defensive End for the New York Giants, started his R.U.S.H for Literacy (Read. Understand. Succeed. Hope.) charity in 2008 in hopes of providing children with the necessary resources to improve their reading skills. Thus far, 10,000 students in the Tri-State and Central Alabama communities have received new books and other materials. The Tucks have donated over 55,000 books and raised over $1.5 million dollars since the charity's inception. They have also supported other non-profit organization by donating over $150,000 in grants. This year $25,000 of the Celebrity Billiards' net proceeds will be going to the United Way Hurricane Sandy Recovery Fund as well.
In addition to Anthony Anderson, other celebrities that What's The 411 caught up with at Justin Tuck's Celebrity Billiard's Tournament included: Justin Tuck; actress and television producer, Vivica A. Fox; former NBA Basketball Player, Jason Kidd; Meeka Claxton, wife of Craig "Speedy" Claxton and former star of VH1's Basketball Wives; former New York Knicks Guard John Starks; professional pool player, Jeanette "Black Widow" Lee; and Jared Fogle (better known as Jared the subway guy).