Celebrity Hairstylist Cocoa Mane Supports Beating Cancer in Heels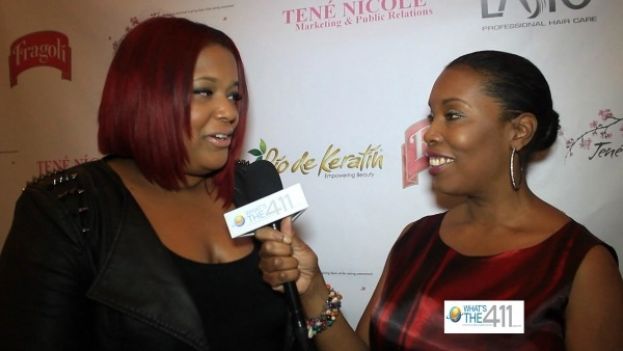 Photo Credit: Alexis Williams/What's The 411 Networks
Janel Smith, Celebrity Hairstylist and owner of CoCo Mane Hair Salon, talking with What's The 411TV correspondent Barbara Bullard
VIDEO: Celebrity Hairstylist Janel Smith aka Cocoa Mane, attends Tene Nicole Marketing and Public Relation's 2nd annual fundraiser, Shopping Night Out to support the non-profit organization, Beating Cancer in Heels.
What's The 411 correspondent Barbara Bullard had to get to the bottom of the meaning of Cocoa Mane.
"Well it's actually the name of my business, a hair salon, I also have a product line and Cocoa Mane is just basically saying Chocolate Hair," said Janel Smith, owner of Cocoa Mane Hair Salon.
Hearing about the first Shopping Night Out, Cocoa Mane made it a point to be in attendance this time around and as a sponsor.
"..is there going to be any care packages or any goodies," Barbara asked.
"Yes, we have a Keratin package that we're giving away, also peppermint shampoo, all natural hair oils for natural hair and we're also giving a wash and style by a celebrity hairstylist.
Shopping Night Out was conceived by Nikkia McClain, Founder and CEO, Tene Nicole Marketing and Public Relations.
Shopping Night Out benefits Beating Cancer in Heels, a non-profit organization created by Marlena Ortiz, a 28-year-old breast cancer survivor.