Bill Maher Creates an Uproar Over His Use of the N-Word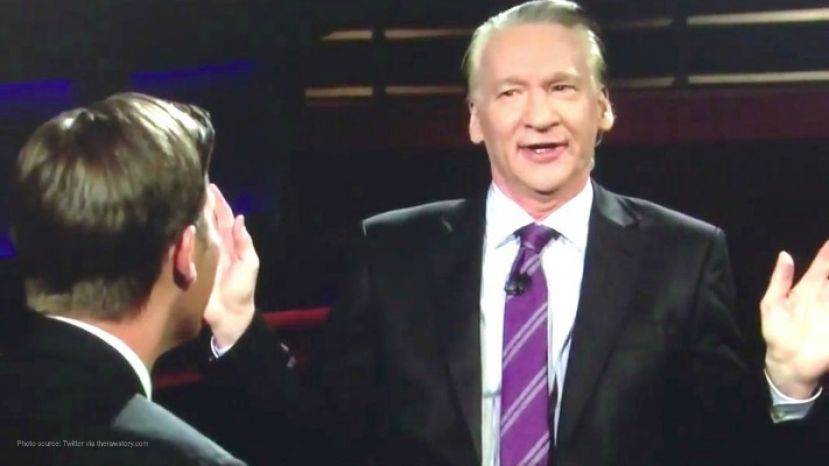 Image Source: Twitter video screenshot via www.theblaze.com
Bill Maher (facing) on the set of his show, Real Time with Bill Maher, talking with US Senator Ben Sasse.
People are calling for the firing of Bill Maher, but is this just a joke that has gone too far?
During an interview with US Senator Ben Sasse (R-Nebraska), Bill Maher, the host of Real Time with Bill Maher, referred to himself as a "house n—r." The conversation went like this:
Adults dress up for Halloween, they don't do that in Nebraska?" Maher asked.
"It's frowned upon," Sasse replied. "We don't do that quite as much."
"I gotta get to Nebraska more," Maher said.
"You're welcome; we'd love to have you work in the fields with us," Sasse joked.
"Work in the fields," Maher scoffed. "Senator, I'm a house nigger."
The joke created an uncomfortable pause in the audience as some moaned while a few laughed. Maher attempted to clean things up by saying, "It was just a joke." A few members of the audience clapped.
Several people took to Twitter expressing their disdain for Maher saying he has crossed the line too many times
But on the other hand, Norman Lear, on his podcast, All of the Above, along with comedian Jerrod Carmichael, and Lear's sidekick on the podcast Paul Hipp, all said the N-word in unison as an exercise to free the power within the word.
Is Lear right, the more we make the word taboo, the more power we give the word? Should Bill Maher be fired as many people are calling for his head?