HBO Developing African-American Comedy, 'Bros'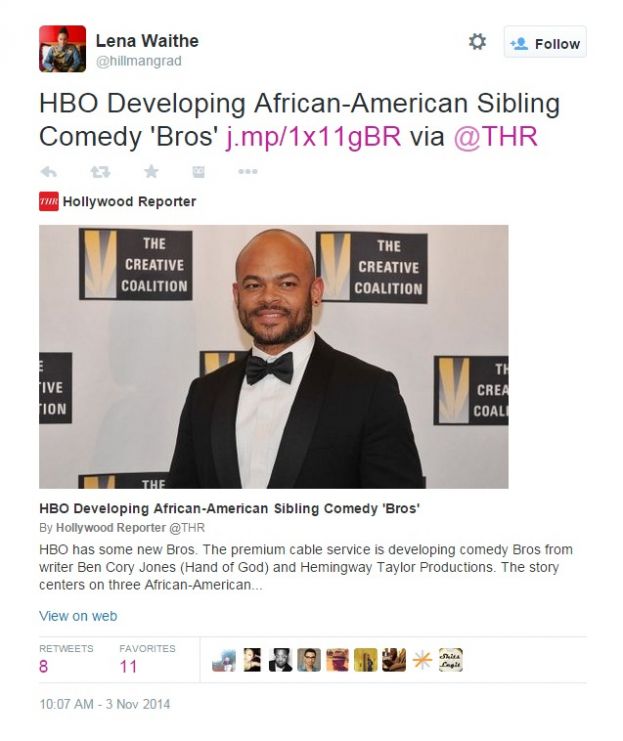 Lena Waithe on Twitter
Lena Waithe's Twitter post announcing HBO's Green-lighting African-American Sibling Comedy, Bros
HBO is developing a comedy, Bros, from writer Ben Cory Jones (Hand of God) and Hemingway Taylor Productions. The story centers on three African-American brothers — two straight, one gay and all very different — looking for love and happiness in Los Angeles. Bros is based on Hemingway Taylor's 12-minute presentation of Bros.
The project is the first sale for director Anthony Hemingway and his producing partner Mark Taylor's banner, Hemingway Taylor Productions. Hemingway is set to direct and both he and Taylor are expected to executive produce. Also in the mix is Lena Waithe (Dear White People) as co-executive producer.
The move by HBO appears to be part of a bandwagon effect. ABC is seeing major success with Scandal, Black-ish, and How to Get Away with Murder, so HBO and other networks are getting on the diversity train.
Check out the Bros trailer below. Will it be a hit, miss, or needs work?
VIDEO: Trailer for Bros
Last modified onSunday, 16 November 2014 22:58