Barbra Streisand Slays Donald Trump with Remake of Send in the Clowns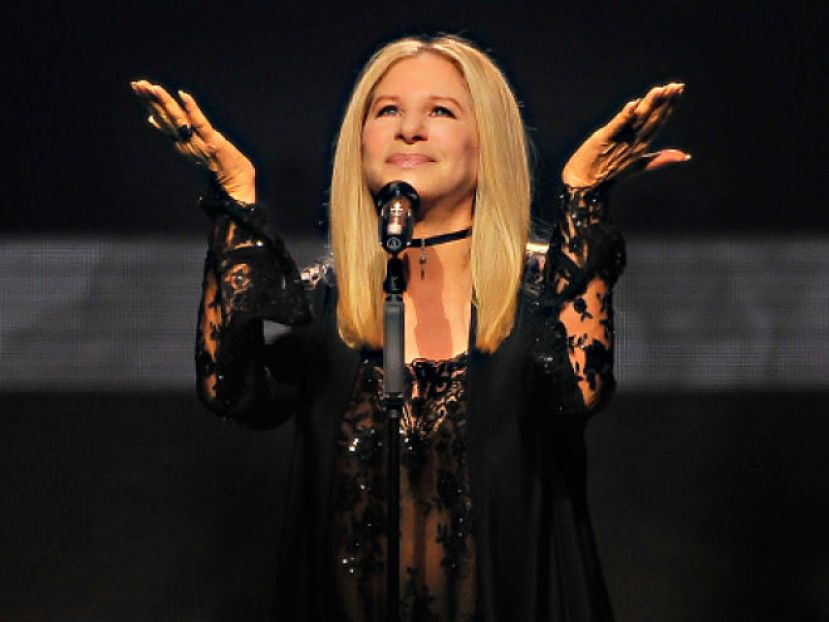 Photo Credit: Unknown
Barbra Streisand mocks Donald Trump with a parody of Send in the Clowns at Hillary Clinton fundraiser
Barbra Streisand mocks Trump at fundraising event for Democratic Presidential Candidate Hillary Clinton
At an LGBT-focused New York fundraising event for Democratic Presidential candidate Hillary Clinton on Friday, singer/songwriter/actress/filmmaker Barbra Streisand, performed Stephen Sondheim's Send in the Clowns re-named, Who Needs This Clown? and the special lyrics "slayed" the Republican Presidential candidate Donald Trump.
On the video you can hear the audience going crazy; and according to a source, Barbra received 9 standing ovations during her performance.
The lyrics to Barbra's Who Needs This Clown? are really clever:
VERSE 1
Is he that rich?
Maybe he's poor?
'Til he reveals his returns
Who can be sure?
Who needs this clown?
VERSE 2
Something's amiss
I don't approve
If he were running the free world,
where would we move?
Name me a town?
Just who is this clown?
BRIDGE
And when we thought we'd heard it all
Huffing and puffing about his big fantasy wall
Making his entrance on stage...
He just shoots from the hip
He's full of bull
He's lost his grip!
["Since Putin likes me, I like him! Sounds like a 4-year old!"]
VERSE 3
And if by chance
he gets to heav'n
even up there he'll declare...
Chapter Elev'n!
Who'd hire this clown?
This sad vulgar clown...
"You're fired" you clown!
BRIDGE 2
Hillary's kind...
Smart that is clear
While she is giving us hope...Trump is selling us fear
Look how he changes his views every time that he speaks
It's lie after lie
can't take eight more weeks!
VERSE 4
This is no farce
Maybe he's broke?
Is this "the art of his deal"
or some awful joke?
You've got to admit...
This silly half-wit...
Is so full of ¬_ _ _ _!
The event took place at Cipriani Wall Street and benefits the Hillary Victory Fund which will be distributed to Hillary for America, the Democratic National Committee, and state parties.
Other performers in addition to Barbra Streisand were Rufus Wainwright, and Laverne Cox (who introduced Hillary Clinton). Chelsea Clinton introduced Cox.
The host reception committee included a long list of bold-faced names: Erich Bergen, Andy Cohen, Sharon Gless, Donna Karan, Debra Messing, Kathy Najimy, Cynthia Nixon, Mary Louise Parker, Zachary Quinto, Andrew Rannells, Michael Doyle, Richert Schnorr, Marissa Tomei, Michael Urie, Jesse Tyler Ferguson and B. D. Wong.
Other notables in attendance included Donna Brazile, Barry Diller, Harvey Weinstein, Diane Von Furstenberg, Huma Abedin, Marty Erlichman, Ken Sunshine, Richard Jay-Alexander and many, more.