What's The 411 Episode 64: Forest Whitaker, Derek Luke, and Anika Noni Rose in Roots Remake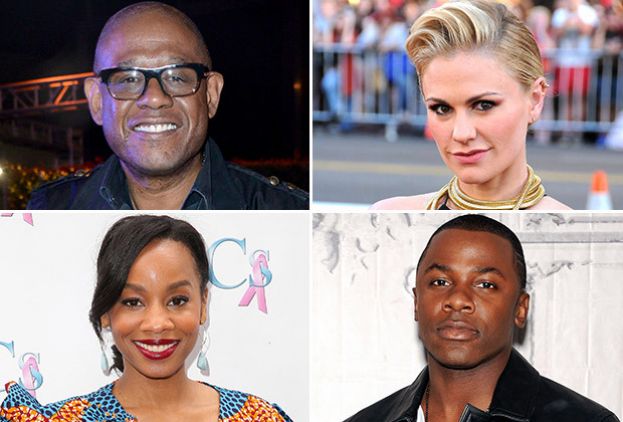 Photo Credit: Getty Images
Photo (clockwise from top left): Forest Whitaker, Anna Paquin, Derek Luke, and Anika Noni Rose to star in the remake of Roots, which will air on A&E
President Obama nominates Eric Fanning an openly gay man for Secretary of the Army; The Americas fall in love with Pope Francis
In What's The 411 Episode 64, the panel of host Kizzy Cox and correspondents Courtney Rashon and Onika McLean are talking about Pope Francis' visit to New York City; the upcoming Roots remake, featuring Forest Whitaker, Anna Paquin, Derek Luke, and Anika Noni Rose; rapper Rick Ross' engagement to Instagram socialite Lira Galore; uber marketing executive Steve Stoute's engagement to Carol's Daughter sales executive, Lauren Branche; reviews of actor Idris Elba's "singing" skills; Kanye West's Yeezy Collection at 2016 S/S New York Fashion Week; President Obama's nomination of Eric Fanning, an openly gay man, to serve as Secretary of the Army; New York plans to outlaw the sale of K2; and 20 Restaurants receive an F grade for their use of antibiotics in their meats. In the Reality TV Recap, they look at Married to Medicine and the Kardashian tech ventures that are estimated to generate millions of dollars; and the Stockton California police and the school officials at MacArthur High School in Texas get called on the carpet.
QUICK TAKES
KIZZY: More A-list stars have joined the cast of the Roots remake! Forest Whitaker will be playing Fiddler, a mentor to Kunta Kinte, Derek Luke will be playing Silla Ba Dibba the military officer who trained the Mandinka teens to become powerful warriors and Anika Noni Rose will be playing my namesake Kizzy, Kunta Kinte's daughter who "maintains her family pride and warrior spirit!" The 8-hour miniseries will air on A&E.
COURTNEY: Rapper Rick Ross is engaged to former stripper turned Instagram socialite, Lira Galore. The ring is huge and Galore posted a picture on Snapchat with the caption "YES". Congrats to the newly engaged couple.
ONIKA: Marketing guru Steve Stoute has wed! It was a true "Pretty Woman" story. Lauren Branche was a young and beautiful enterprising sales rep from Carol's Daughter and Steve was her latest pitch! She didn't get the deal but in the end she got the guy! Best wishes to the lovely and wealthy couple! Oh by the way! Nas, Kanye and Maxwell performed. And Jay and Bey were in attendance.
COURTNEY: According to the Guardian, handsome and talented actor Idris Elba should stick to acting instead of singing. Elba recorded and released a new song and the reviews have not been so great. Elba, recorded a verse on a remix of Skepta's grime track "Shutdown," which references his characters Stringer Bell on "The Wire," Detective John Luther, and Nelson Mandela. However, that remix has over 1 million plays on SoundCloud and was number one on the Billboard charts. With over a million plays and tens of thousands "likes," Elba's voice can't be all that bad.
COURTNEY: Rapper Kanye West revealed his second Yeezy Collection 2016 during New York Fashion Week. The crowd was filled to the max and included celebs Common, Lorde, Debbie Harry, Courtney Love and of course, the Kardashian sisters. North West was seated in the front row with her mom. Reportedly, the show was organized and less chaotic and started on time, as opposed to last year's show.
ONIKA: IN MEMORIAM: Prolific writer and author, Jackie Collins, passed away from the effects of breast cancer. Collins battled breast cancer in private for more than six years -- revealing she did not want a wave of public sympathy or to be defined by her illness. In a wide-ranging and emotional interview just six days before her death, the 77-year-old best-selling writer told PEOPLE's Elizabeth Leonard exactly why she chose to keep her diagnosis a secret from family and friends. She told only her children -- Tracy, Tiffany and Rory.
Collins wants on her gravestone: "She Gave a Great Deal of People a Great Deal of Pleasure"
WHAT'S POPPIN'
President Obama Nominates Eric Fanning to be Secretary of the Army
In the U.S. military, if you ask now, who cares if they tell! President Obama certainly isn't acting like a lame duck! He is going out of this last call of duty with a bang! Actually, bang, bang, bang! Lol, said What's The 411 correspondent Onika McLean.
Eric Fanning has been nominated to become the first openly gay Secretary of the Army! At Ease Please! In a story reported by Fox News- Mr. Fanning who was an official at the Pentagon has been serving as Undersecretary of the Army since February! Obama says that Fanning brings a wealth of knowledge to the position and he is confident that he will do an amazing job!
Personally, I think President Obama has sat down with God himself and is strategically planning to change America to truly be a free democracy! Go Jesus and Mr. President!
#AskOnika
5 Things Women Can Do During Football Season
What's The 411 correspondent Onika McLean names 5 Things Women Can Do During Football Season.
Football season is upon us and I don't give a rat's ass about football. However, there are a lot of football widows out there whining and complaining because they just don't know what to do. So, to the football widows, here are a few things you can do to occupy your time while your boo thang is watching the game:
1- go to the spa
2- go shopping
3- read a book
4- download Bumble and see all the hot guys/girls you could be dating that doesn't have the same affinity for football as the person on the sofa eating the hot wings and;
5- go on Facebook and follow What's The 411TV and talk to me- I'm available Sunday, Monday, and Thursdays!
#AskOnika
Pope Francis Lifts Spirits in New York City
New York City is feeling a bit holier if you ask me! Although Pope Francis has left the building, New Yorkers are still on a spiritual high because of his presence. The same can be said of those living in Cuba, Washington, DC, and Philadelphia. Pope Francis, the Roman Catholic Church's first Latin American Pope, touched the hearts of so many because through his speeches he showed he is in touch with the issues that they care about. Throughout the Pope's visit, he spoke about mercy, forgiveness, and the role of the Church, including his visit to a prison in Philadelphia.
What's The 411 correspondent Onika McLean said, "I am liking this Pope! When Pope Francis was questioned about Gay people, he said 'who am I to Judge'. You're the Pope! God is supposed to be next in line, if you're not judging, neither am I."
#AskOnika
UNDER THE RADAR
New York Attempts to Ban Sale of K2
ONIKA: While other states are legalizing marijuana, New York is introducing a bill to ban the sale of K2. K2 is synthetic marijuana being sold at your local corner store. The irony is that instead of getting a mellow high from smoking K2, there are reports of numerous strokes, heart attacks, and deaths.
20 Restaurants Receive an F for Routine Antibiotic Use in Meats
COURTNEY: On the lifestyle tip, Nacole Jones hit us up with this story on Facebook. Twenty (20) restaurants received F grades for routine antibiotics in their meat supply from according to the "Chain Reaction" report by Friends of the Earth, the Natural Resources Defense Council and four other consumer interest, public health and environmental organizations.
Chipotle and Panera Bread fared best, with both receiving As. Those restaurants are the only two that report serving a majority of their meat from animals raised without regular use of antibiotics, the report said.
Chick-fil-A received a grade of B, but it is a leader in transitioning away from antibiotics in its food supply with third party verification.
Dunkin' Donuts and McDonald's received Cs. Subway, Wendy's, Burger King, Denny's, Domino's and Starbucks all received F's, but got at least one point.
Other restaurants that received Fs and earned ZERO out of 36 possible points are: Olive Garden, Papa John's, Taco Bell, Pizza Hut, KFC, Applebee's, Sonic, Chili's, Jack in the Box, Arby's, Dairy Queen, IHOP, Outback and Little Caesars.
ON THE CARPET
On The Carpet: Stockton, California Police
Courtney Rashon calls several Stockton, California police officers on the carpet. They are currently under investigation and scrutiny after a video surfaced showing nine cops beating and arresting a Black teenager for jaywalking. A police officer was going to write the teen a ticket, but instead grabbed the young boy and pulled out his baton. The teen was trying to catch a bus when he was approached and beaten. Witnesses say the teen was hit by the officer several times before back-up came. The officer then told the teen to stop resisting after the teen was punched by the officer and reportedly, the teen was not resisting in any way.
On The Carpet: MacArthur High School in Texas
Kizzy Cox calls the school officials at MacArthur High School in Texas and the police on the carpet. First school officials at MacArthur High School for having14 year-old Ahmed Mohamed arrested for bringing a clock to school that he built himself because they thought it was a bomb. The teen was handcuffed and questioned by 5 police officers for 1 1/2 hours without being allowed to call his parents, the school didn't alert his parents either it was only after the police called that his father even knew he'd been arrested! Even though the police found no evidence of wrongdoing he was then suspended by the school for 3 days! Ahmed said "I felt like I was a criminal," "I felt like I was a terrorist. I felt like all the names I was called, just because of my race and my religion" Let's be real can we imagine this same scenario happening if he'd been a young white boy? No we can't. We've criminalized being Muslim and brown in this country even though the vast majority of school attacks have been conducted by white people. Luckily for Ahmed, plenty of people heard about his case including none other than our president Barack Obama who invited Ahmed to the White House! Facebook founder Mark Zuckerberg also tweeted his support and invited him to his headquarters saying ""Having the skill and ambition to build something cool should lead to applause, not arrest. The future belongs to people like Ahmed." MIT also invited Ahmed to their campus which the teen is excited about. In the meantime he is transferring schools.
REALITY TV RECAP
Married to Medicine Update
COURTNEY: While on vacation, Married to Medicine reality star, Dr. Heavenly, got into a heated verbal disagreement with Jill Connors who is married to one of the doctors. Jill told Dr. Heavenly that her husband Dr. John Connors told Heavenly's husband F**k you when that was a total lie. Heavenly got to the bottom of the story and addressed Jill, where they got into a heated debate.
According to TMZ, Jill went berserk on her husband after he accused her of cheating. Dr. Connors got a restraining order on Jill after she was arrested for attacking him. Dr. John also got everything including their Atlanta house, her car and custody of their three children and withdrew 250k from their joint account. She currently is penniless and filing for divorce.
Kardashian Tech Venture Raking in Millions
ONIKA: The Kardashian Family is at it again. All of the Kardashian girls released an app this week. They stand to make 32,000,000.00 the first year. Baby sister Kylie's app is doing the best so far! Hats off to Kris Jenner- she puts them girls to work- literally.
IN THE PIPELINE
ONIKA: Mary J. Blige and Tamar Braxton will begin touring this October! Check out LiveNation for show dates and ticket information.
KIZZY: Academy Award-winning actor Denzel Washington is bringing all 10 of August Wilson's about black life in America during the 20th century to HBO! The 10 plays are known as the Century Cycle because they take place during each decade from 1900-1990. Denzel starred in Fences alongside Tony award-winning actress Viola Davis on Broadway and will take on the role again when he directs the production for HBO next spring. Kudos!
COURTNEY: According to Deadline.com, Ice Cube is set to star in a remake of the Christmas Carol movie, called Humbug. The script, which was the subject of a bidding war between four studios, will hit theaters in 2017.
Kizzy: This just in from Sandy Harper, the woman who is always in the know, high school students can join Cooper-Hewitt for the Teen Design Event of the Year!
Cooper Hewitt, Smithsonian Design Museum is hosting its 10th annual Teen Design Fair in New York City, where teens talk with top designers working in the fields of fashion, product design, architecture, graphic design, and more!
The winners of the 2015 National Design Awards and designers from leading companies will be available to answer questions about possible careers paths, discuss the challenges designers face in the studio, and share what they love about their work.
The 10th annual Teen Design Fair will be held on Tuesday, October 13, at 4:00 p.m. – 6:00 p.m. at the Museum of the American Indian, One Bowling Green (in lower Manhattan near Battery Park).