What's The 411 Episode 58: Future Throwing Shade at Ciara and Russell Wilson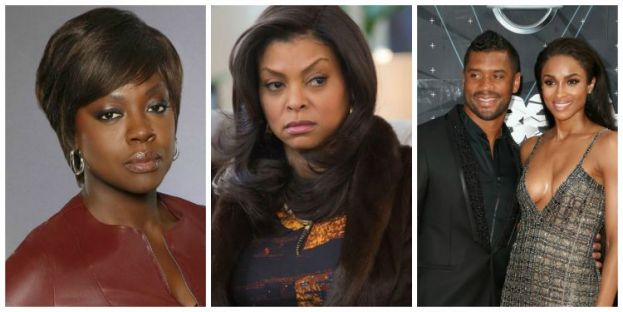 Photo Collage: Russell Wilson and Ciara (Frederick M. Brown/Getty Images); Viola Davis (ABC); and Taraji P. Henson (Chuck Hodes/FOX)
Camille Cosby Opens Up; Viola Davis and Taraji P. Henson Get Emmy Noms for Lead Actresses in Drama Series and more
In What's The 411 Episode 58, the panel of What's The 411 hosts Glenn Gilliam and Kizzy Cox and correspondents Onika McLean and Essence Semaj are discussing the Eric Garner case, Bill Cosby, BB King; rapper/producer Timbaland; Bobbi Kristina; rapper Hussein Fatal, NASA scientist Claudia Alexander; the Emmy nominations; rapper Future's feud with singer Ciara over her new beau, NFL Super Bowl-winning quarterback Russell Wilson's involvement with their son; Amazon's selection of Spike Lee's film, Chiraq; President Obama's work ethic; the Harlem Book Fair's Wheatley Awards and author Selma Jackson's win of a Wheatley Award; Kizzy Cox calls Texas police On the Carpet for the death of Sandra Bland; and a Reality TV Recap focused on VH1's Twinning and Bishop TD Jakes' scolding of the Braxton sisters on the Braxton Family Values.
What's The 411TV Episode 58 Rundown
What's The 411 Quick Takes
A settlement was reached in the Eric Garner case. Garner was the Staten Island man who died after being placed in a chokehold by police in 2014. The Garner Family settled with the City of New York for $5.9 million dollars.
WBLS.COM and the New York Post are reporting the Camille Cosby believes that her husband's accusers 'consented' drugs and sex. More than 40 women have come forward accusing the disgraced actor and comedian, Bill Cosby, of rape. In the meantime, President Obama, when asked about the alleged allegations at a press conference, said: "if you give a woman -- or a man, for that matter -- without his or her knowledge a drug and then have sex with that person without consent, that's rape." recently, The New York Times has obtained a 10-year-old deposition in which Cosby spoke more of how he used fame, drugs, and fortune for sex. Comedian and talk show host, Whoopi Goldberg, after originally defending Cosby on the View, has now backtracked her support.
We have an update on the late blues man B.B. King. King's daughters said he was poisoned which led to his death. Now, according to a recent autopsy report, he died of Alzheimer's Disease and other complications.
THE GRIO.COM is reporting that NBC Nightly News with Lester Holt is number one newscast for three consecutive weeks.
And it doesn't get any better for rapper-producer Timbaland. His wife, Monique Mosley, has filed for divorce for the second time; Nick Gordon has been served with a $10 million dollar lawsuit on behalf of Bobby Kristina Brown. The documents state that Gordon misrepresented himself as Brown's husband to control and limit Brown's spending and interactions with others; and rapper DMX was sentenced to 6 months for not paying child support.
Speaking of Bobbi Kristina, movie mogul Tyler Perry recently visited her at the hospice in Atlanta. Perry later pleaded to the media: "It's heartbreaking to think that even in a time like this, this child is still not allowed any peace. I assure you, the family will issue an official statement if something changes. Until then, can we just pray for Krissi, and the Houston and Brown families?"
In an "Only in New York" story, singer and actress Brandy boarded a New York City subway train, in complete disguise, and sang on board a packed train. No one paid her any attention.
AND IN MEMORIAM, WE REMEMBER:
• MARLENE SANDERS, ONE OF THE FIRST WOMEN TO BREAK INTO TELEVISION NEWS, HAS PASSED AWAY. SHE WAS 84.
• D'ARMY BAILEY, THE FOUNDER OF THE NATIONAL CIVIL RIGHTS MUSEUM HAS PASSED AWAY AT AGE 73.
• RAPPER, HUSSEIN FATAL, WHO WAS A MEMBER OF TUPAC'S GROUP, OUTLAWZ, DIED IN AN AUTOMOBILE ACCIDENT. HE WAS 38.
• MICHAEL MASSER, WHO WROTE SOME OF THE BIGGEST HITS FOR WHITNEY HOUSTON, HAS DIED AT 74
• NASA SCIENTIST CLAUDIA ALEXANDER, WHO HELPED DIRECT THE AGENCIES GALILEO MISSION TO JUPITER HAS PASSED AWAY FROM BREAST CANCER. ALEXANDER, WAS 56.
What's Poppin'
2015 Emmy Nominations
The 2015 Emmy nominations are in. Among the nominees are actresses Taraji P. Henson and Viola Davis, who are up for outstanding lead actress in a drama for their respective shows EMPIRE and How To Get Away With Murder; Uzo Aduba for outstanding supporting actress in a drama for Orange Is The New Black; Don Cheadle and Anthony Anderson for outstanding actor in a comedy for their shows House Of Lies and Black-Ish respectively; Queen Latifah and David Oyelowo are nominated for outstanding actress and actor in a TV movie for Bessie and Nightingale respectively; Khandi Alexander and Cicely Tyson are up for outstanding guest actress for Scandal and How To Get Away With Murder respectively; and Regina King, Angela Bassett, and Mo'nique are up for outstanding actress in a limited series or movie for their work in American Crime (King), American Horror Story: Freak Show (Bassett), and Bessie (Mo'nique). Congratulations!
Future-Ciara-Russell Wilson
It seems like rapper Future is having a little trouble with Ciara moving on with her life. When Future was asked about photos showing Ciara's new man, Russell Wilson pushing around in a stroller little Future, his son with Ciara, the rapper voiced his disapproval.
"You don't even bring a man around your son," he shared on the Breakfast Club. "You know this dude for a few months and you're bringing him around your kid? Who does that? Nobody does that."
Is Future right? Is it too soon for Ciara to expose her son to a new man in her life?
Amazon Selects Spike Lee
Amazon Studios says it has acquired Spike Lee's new film as its first amazon original movie. The film, with the working title Chi-raq, features a cast including Nick Cannon, Wesley Snipes, Jennifer Hudson, and Teyonah Parris, as well as D.B. Sweeney, Harry Lennix, Steve Harris and Angela Bassett, plus John Cusack and Samuel L. Jackson.
Amazon studios' Ted Hope said, "It would be impossible to find a better filmmaker" than Lee to launch the studio with.
Under The Radar
The hardest working man in government is ... you guessed it, is President Obama. According to Americans Against the Tea Party, President Obama would need to take the rest of his candidacy on vacation to add up to the time former President George Bush took on vacation. If you recall, Roger Ailes, President and CEO of Fox, about two years ago:
"Obama's the one who's never worked a day in his life. He never earned a penny that wasn't public money. How many fundraisers does he attend every week? How often does he play basketball and golf? I wish I had that kind of time. He's lazy, but the media won't report that."
411 Book Party
Luvon Roberson, What's The 411's Book Editor, tells us about the Harlem Book Fair's Wheatley Awards and a recap of her interview with author Selma Jackson, one of the winners of The Wheatley Awards.
On The Carpet: Texas Police
Every week there's at least one person that gets called on the carpet. And this week we are calling on the carpet the Hempstead Police Department in Texas.
Stories like this are on rewind! Twenty-seven-year-old Sandra Bland was on her way to her new job when she was pulled over by state trooper Brian Encinia in Prairie View, Texas for failing to signal when changing lanes. The police then claimed that she was combative with the officer, which required him to slam her to the ground and another officer to hold her down as well. But there was a witness who recorded the incident and Bland doesn't appear combative but is heard yelling that they slammed her head into the ground so hard she couldn't hear! What's worse is that they threw her in jail and two days later she was dead. The county sheriff claims she died of suicide by asphyxiation...but this is the same sheriff who was fired from his post as Chief of Police in Hempstead, Texas in 2007 for racism and abuse against black people! Why was he allowed back into law enforcement at all?
This just keeps happening, the excessive force, the death of black people at the hands of law enforcement. It has to stop, just like white lives, Black lives matter.
Reality TV Recap
VH1's Twinning
According to perezhilton.com, Vh1 is ready to dip its feet back into the reality TV pool with the launch of its new show, Twinning on July 22nd. This show will feature twins in a survivor-like competition for a grand prize of $222,222.22. For 10 weeks, a dozen sets of twins will live apart from one another and compete in challenges to see which pair really has the closest bond.
Braxton Family Values
Bishop T.D. Jakes gave the bickering Braxton Sisters the scolding of their lives on Braxton Family Values. In short he said:
"You're spoiled. You're flat-out spoiled."
"To see you in these fancy shoes and these nice clothes, and act like this??? "How can we teach our children to respect black women, if black women don't respect black women? This has got to stop."
What's The 411TV host Glenn Gilliam, put a wrinkle in the commentary. Glenn suggested that Bishop Jakes needs to use his pulpit to comment on larger issues affecting the Black community.
COMMENTS
If you would like to call someone on the carpet, hit us up on Facebook or Twitter @whatsThe411TV with who you want called on the carpet and why. If we choose your story, we'll include it on the show.