Iconic News Woman Sue Simmons Reflects on Her Career at NYABJ Event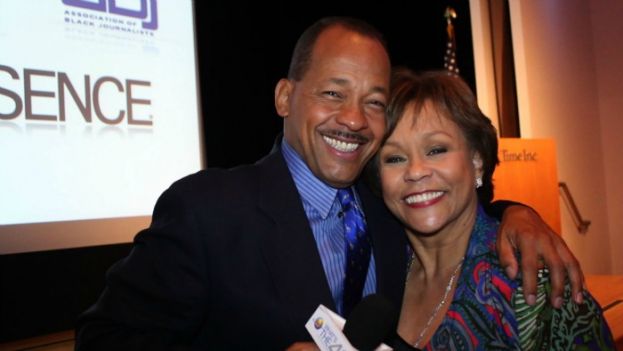 Photo Credit: Alexis Williams/What's The 411 Networks
What's The 411TV correspondent Andrew Rosario with former WNBC-TV news anchor Sue Simmons
VIDEO: The New York Association of Black Journalists, Essence, and the Black Employees at Time held a reception to celebrate the career of the legendary WNBC-TV news anchor, Sue Simmons
Former WNBC-TV news anchor, Sue Simmons, gave What's The 411 correspondent, Andrew Rosario, a wide-ranging interview about her career in broadcasting. Off camera, we learned that as Ms. Simmons neared 30-years-old, she realized that secretarial work would not provide her the lifestyle that she was looking for or the personal fulfillment. Consequently, she decided to go to broadcast training school.
As the need to have more African-Americans in the newsroom presented itself, Ms. Simmons was prepared. Although she was prepared from broadcast training school, it was a bit frightening to have a job in broadcasting because she had no work experience in journalism.
She worked two years in New Haven, Connecticut as a consumer reporter and then became an anchor in Baltimore.
In 1980, Ms. Simmons came to New York City to get the big job as an anchor in the number one market. In taking this job, she was thankful that she was born and raised in New York City. However, it was a double-edged sword. She was nervous because it was her home and because she was home, it helped to minimize her nervousness. Surprisingly, it took her five years to get over her nervousness.
There were a few Black women reporters at WNBC-TV at the time, but none had the primary anchor position. Many thought that Ms. Simmons wouldn't last and that because she was so full of fun that she would crash and burn.
Ms. Simmons retired from her job 32 years later, so much for crashing and burning.
Reflecting on her time at WNBC-TV, Lena Horne, an African-American Award–winning jazz and pop music singer, dancer, actress, and civil rights activist, was her best interview because she admired Ms. Horne's courage for breaking through racial barriers. Ms. Simmons said that she was so thrilled about the interview, she could hardly think straight.
Does she miss her job?
"I tell you the truth, I don't miss a lot about the day-to-day, said Ms. Simmons. "But, I'm like a former athlete, I miss the clubhouse, you know I miss the mixing it up with my co-workers, and dinner and laughing, that's what I miss."
Ms. Simmons is a huge sports fan. It is one of the reasons she got into broadcasting. She credits her father with making her sports fan. There was one television in the house and since her father watched sports, she joined him.
Now that she has retired will there be a book in her future?
"I have not had the endurance or courage to start that yet," said Ms. Simmons.
Although Ms. Simmons is not starting her book quite yet, she is consciously taking it one day at a time; and has made time to appear on Law and Order, Wendy Williams, and Joy Behar.
"If an inviting job comes along, I'll take it, but I am in no hurry. I've worked for 40 years."