What's The 411 Wins Free Speech Award for News and Information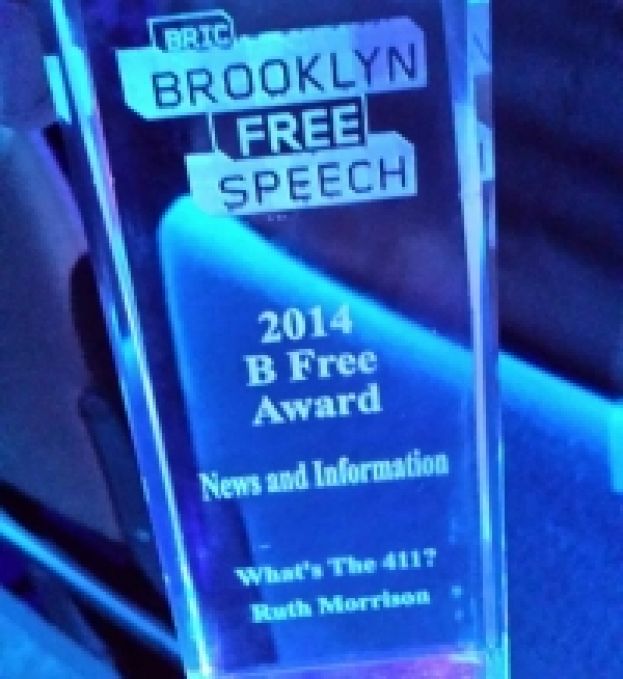 Photo Credit: Glenn Gilliam/What's The 411 Networks
What's The 411 Wins a B FREE Awards for News and Information
What's The 411, the weekly entertainment news and lifestyle television show, produced by Ruth J. Morrison, is now an award-winning entertainment news and lifestyle television show.
With 14 other honorees in its category, the show took home the coveted B FREE Award for news and information from the Brooklyn Public Network.
In the video below, Ruth J. Morrison, CEO and Founder, What's The 411 Networks and producer of What's The 411, takes us back to the early days through her acceptance speech as narration and a montage of video and photos of notables and celebrated personalities interviewed by What's The 411 reporters.
The video includes in order of appearance: actresses Susan Sarandon; Angelina Jolie; and Kimberly Elise; former U.S. President, Bill Clinton; the filmmakers of Love and the Small Print; comedian and actor Chris Rock; Ericka Pittman, Vice President, Blue Flame Agency; actor Malik Yoba; singer-actress Miesa and Melba Moore; legendary author and poet, Maya Angelou; actress Angela Bassett; New York Knicks fans (in happier days); Earvin "Magic" Johnson; singer-actress Jennifer Hudson; Blood, Sweat, and Heels reality TV star, Daisy Llewelyn; the legendary actress Cicely Tyson; actors Meryl Streep; Phylicia Rashad; Jamie Foxx; Denzel Washington; Halle Berry; Kerry Washington; Beyonce; and Samuel L. Jackson; New York Knicks President, Phil Jackson; tennis legend Billie Jean King; Heisman Trophy winner Jameis Winston; NFL Super Bowl-winning quarterback, Russell Wilson; NBA basketball players, Kevin Garnett; Paul Pierce; and Jason Terry; NFL football players, Victor Cruz; Eli Manning; and Peyton Manning; the Heisman Trophy; Texas A&M football player and Heisman Trophy winner, Johnny Manziel; boxers Mike Tyson and Sonya Lamonakis; Olympic Gold Medalist, Sanya Richards-Ross; and tennis great, Serena Williams.
Hosted by Bianca Peart, Glenn Gilliam, Jacinda Motton, and Kizzy Cox, What's The 411 airs nationwide on DISH TV's SimplyMe video on demand network and on Wednesdays at 10:30 p.m. on Verizon FiOS Channel 43 in New York City.
Watch Video
Last modified onFriday, 10 October 2014 02:50