NYC's Easter Parade of Images As Narrative?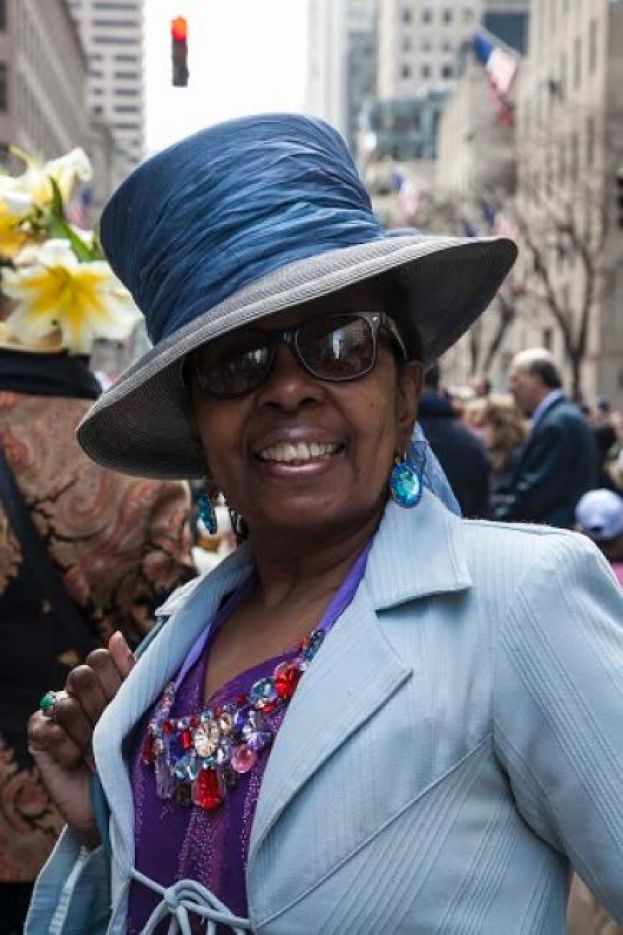 Photo Credit: Derrick Davis for The Root
What's The 411 Book Editor, Luvon Roberson, at the Easter Parade on Fifth Avenue in New York City
When New Yorkers Tell Their Stories: From Top Hats & Bonnets to Kooky & Outrageous
When I was a child, I thought Easter was one day: Easter Sunday, when I was decked out gloriously with new dress, shoes, and hat. Such finery, of course, was to be worn only once -- on that special Easter day. As with so many things in life, I've come to understand Easter as being more expansive. Indeed, rather than being limited to only one day, Easter is a season. In the liturgical calendar, the season of Easter lasts seven Sundays, beginning on Easter Sunday and spanning to the Day of Pentecost. That adds up to 50 days of Easter!
Of course, we humans have found ways to express not only our faith or spiritual traditions of Easter, but also to express our joy and playfulness as Spring returns. Enter, the Easter Parade!
After a New York winter that was especially challenging , seeming never to end, we may have been even more excited than usual to shed our protective, multiple layers of clothing. And, what better way to show off our bright new Spring outfits -- topped off with spectacular bonnets and sophisticated top hats -- than to strut down Fifth Avenue in the Easter Parade on Easter Sunday? Perhaps strutting our finery in procession for all to see and admire is a way we choose to tell our story of joy – even exuberance – about Spring's arrival, at long last!
In my new, more expansive view, perhaps each of us becomes the author of our Spring or Easter or whatever story we choose to tell, as we gather with thousands of other "storytellers" in the Easter Parade. As you can see, even the most outlandish hat-creations are part of the story. I'm guessing that it's just these kind of broad-ranging, diverse expressions I find in the procession every year that keep me coming back.
At about 11:00 am or so, a group of friends and I head to 49th Street & Fifth Avenue, decked out in our bonnets. I make certain to look for Fred Moody, a gifted photographer, who's always in front of St. Patrick's Cathedral at about that time. This year, at 53rd Street & Fifth Avenue, TheRoot.com captured my bonnet along with Marie Pierre; Lisa McFadden; Twila Perry; Paula Pelliccia and her fashion designer daughter, Lisette Ffolkes, who works for Tracy Reese; and many others. It's taken us about an hour to walk four blocks!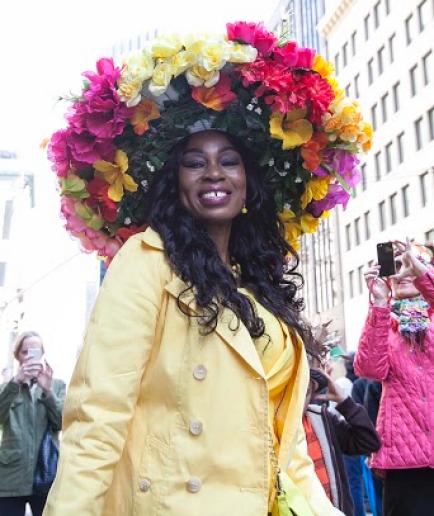 Marie Pierre at the Easter Parade on New York City's Fifth Avenue Photo credit: Derrick Davis for The Root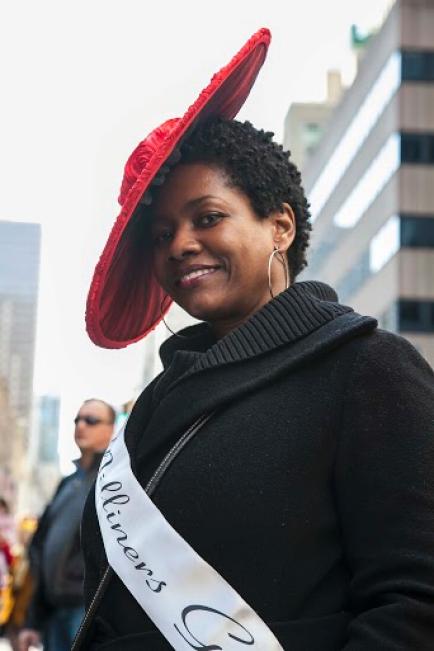 Lisa McFadden at the Easter Parade on New York City's Fifth Avenue Photo credit: Derrick Davis for The Root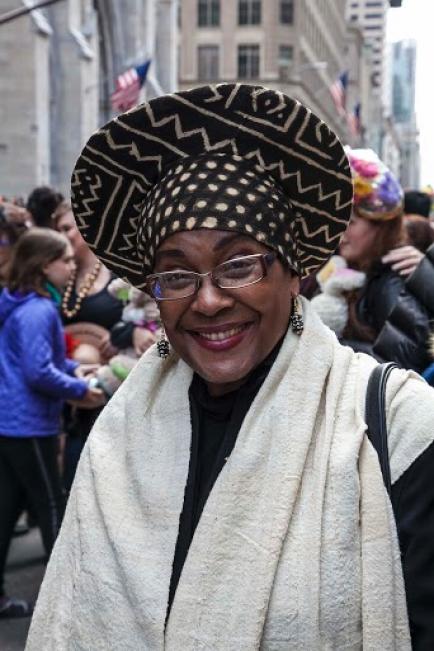 Twila Perry at the Easter Parade on Fifth Avenue in New York City Photo credit: Derrick Davis for The Root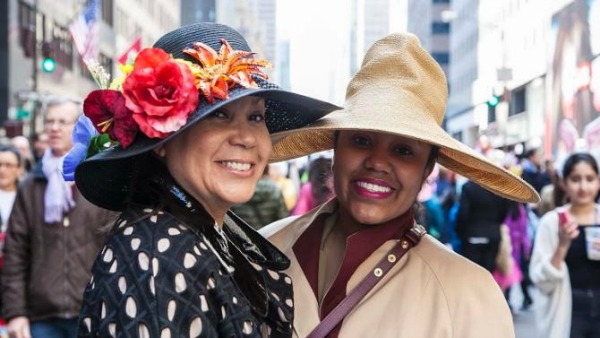 Paula Pelliccia and her daughter, fashion designer, Lisette Ffolkes. Photo credit: Derrick Davis for The Root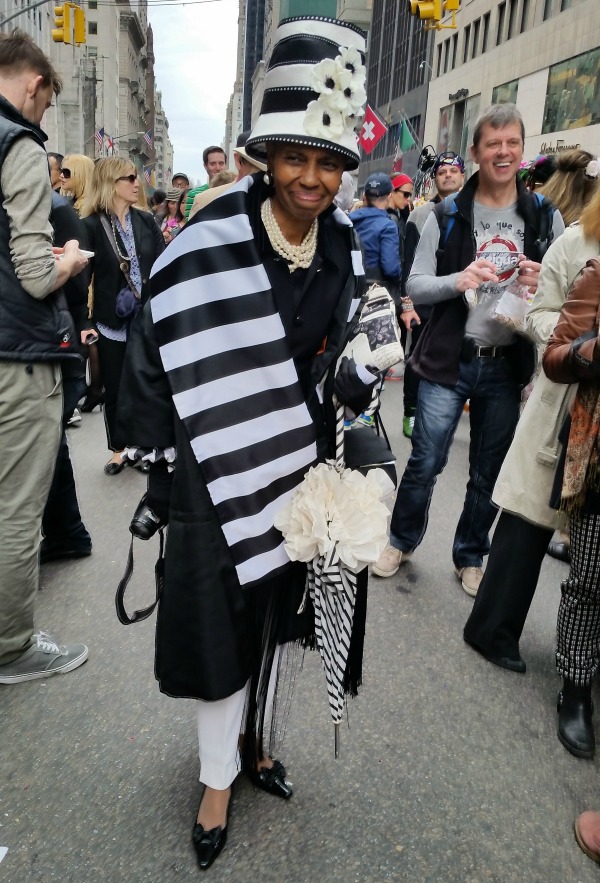 Lana Turner, Harlem real estate broker & fashion-setter, at NYC's 2015 Easter Parade on Fifth Avenue. Photo Credit: T. Perry
As my friends and I slowly make our way to the Parade's end at 57th Street & Fifth Avenue, we're stopped dozens more times by other Easter paraders – or professional photographers -- who want to take our photo. However, we're not merely subjects; we are active participants in these "stories," as we also ask even more folks to pose so we can capture their Easter creativity with our cameras and smartphones.
Indeed, there's no such thing as an on-looker, because even those who aren't decked out in Easter bonnets are part of the Fifth Avenue procession. Maybe you'll consider this pageantry as narrative. Maybe you'll join in next year's Easter Parade on "The Avenue"!
Each month, I'll share images of books and authors that I come upon in unexpected places. It's all to inspire you to experience, as if for the first time, the wonder of books and their creators.