The Dinner, skip this meal for now.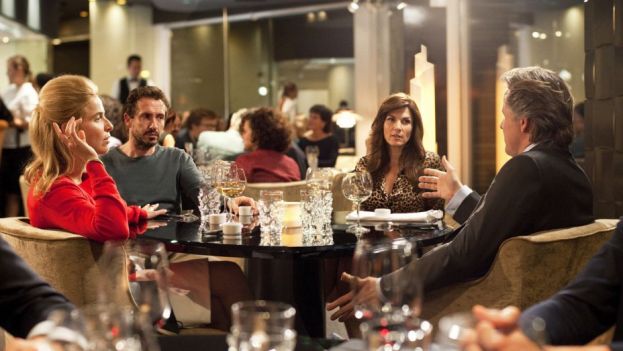 Photo courtesy of The Orchard
The Dinner cast members at dinner in a restaurant; Steve Coogan and Rebecca Hall, facing camera; Laura Linney (side-view) and Richard Gere with back to the camera.
Paul (Steve Coogan) and his wife, Claire (Laura Linney) are surprised by Paul's brother, Stan (Richard Gere) and his wife, Katelyn's (Rebecca Hall) abrupt invitation to have dinner at a posh local restaurant with difficult-to-get reservations. The brothers are not close and Stan, a congressman, is running for governor. Paul knows something is going on for Stan to meet with them at this key time in the campaign. As the couples dine, recollections of past family interactions unfold until the conversations lead to a very troubling story about the couples' sons.
Based on Herman Koch's international bestseller with the same title, the film, The Dinner, is not very appetizing. Movies simply cannot capture the nuance, character depth and the complexity of situations the way a book can.
The characters are enigmas but not in a realistic way, but in more of an implausible way. Claire is a strong, well-organized woman; Paul is unstable and angry about real or perceived childhood slights. Claire loves Paul but you'll find yourself wondering why. He has very little appeal unless her affection is based on sympathy.
Stan tries to indulge his brother's tantrums, as he goes from sympathetic to patient, but eventually becoming annoyed. Stan initially appears to be a person of character until he shows he can be talked out of his convictions with relatively little effort by his wife.
As the couples discuss past events, the adult characters look the same in the scenes revisiting the past, some taking place as long as a decade earlier. Their children are used as time markers. Their sons at the time of this dinner are 16-years-old but are shown in scenes of the past as six or eight-years-old. Again with the parents looking the same during all of the time periods. This reflects on the director, Oren Moverman's lack of attention to details.
The Dinner does boast a five-star cast. Veteran performers Gere and Linney, as well as, lesser known actors Coogan and Hall are excellent individually as well as a group. But hard as they try, they cannot give authenticity to the dialogue and poorly developed characters of Moverman who is also the screenwriter.
As to cast diversity, The Dinner gets a B+. Black performers, Adepero Oduye who plays the congressman's blindly loyal aide, Nina, and Judah Sandridge is Beau, his adopted son, both have very important roles in the film. Additionally, there are many other African-Americans with smaller parts and in background scenes; however, there are few other individuals of color featured.
The Dinner serves up just enough entertainment to get a Rent It rating; it's two hours long and rated "R" for disturbing violent content, and language throughout.
Last modified onMonday, 08 May 2017 19:28