Kidnap will grab you and not let you go. [MOVIE REVIEW]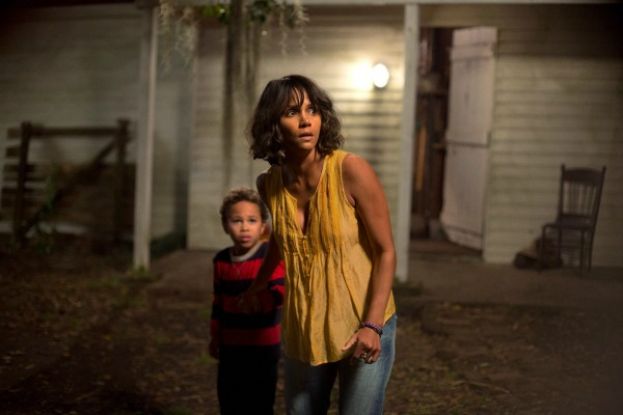 Photo courtesy of Aviron Pictures
Halle Berry as Karla Dyson in the movie, Kidnap, with her, son Frankie, played by Sage Correa.
Karla Dyson (Halle Berry) tries to make the best of a difficult day. She's working as a waitress in a coffee shop dealing with rude and other times, confused customers, while her son, Frankie (Sage Correa) waits for her to take him to a carnival. On the ride over, she talks to Frankie about his father, who is her estranged husband, and his new girlfriend. They arrive at their destination and while watching some of the activities, Karla gets a call from her lawyer and learns that her husband seeks full custody of Frankie. So she can talk more freely, Karla moves to a quieter location leaving Frankie alone to continue viewing the performances. When Karla comes back, her son is missing. As she looks for son, she sees a woman dragging him into a Ford Mustang. The car drives away. Karla gets into her van and takes off in hot pursuit and her valiant efforts to save her son begins.
Kidnap is a thrilling, nerve wrecking, and cinematic adventure. It is unpredictable while also being highly implausible with a TV drama feel about it. Nevertheless, Halle Berry is amazing. She's strong, but not in an inauthentic way that Hollywood often portrays its heroes. Although Berry's character, Karla has a lot of self-doubt, she remains laser-focused on getting her son back.
Kidnap's casting is excellent. Chris McGinn and Lew Temple, who play the husband and wife backwoods kidnappers, are beyond despicable. I have always said you cannot have a truly great hero, without a truly evil villain, and they are evil.
However, much of the film stretches credibility. For example, when Karla goes to speak to her lawyer and leaves Frankie seated watching the show. Frankie's surrounded by people but amazingly no one sees where he went. And, the scene where Karla wrestles with the kidnappers in the carnival parking lot full of cars, but there are no people or no law enforcement around.
Without giving away too much of the story, there are just too many events in Kidnap that seem highly unlikely.
Set in Louisiana, the cast of Kidnap reflects the makeup of that state which is primarily black and white, but with a growing Hispanic population. So, Kidnap gets an "A" for cast diversity.
Kidnap is 90 minutes and rated R, for violence and peril. You won't be bored with the story but there's no compelling reason to see it during its opening weekend. Kidnap gets a Rent It rating.
Last modified onFriday, 08 September 2017 04:11