The Mountain Between Us is a bit bumpy but you should see it. [MOVIE REVIEW]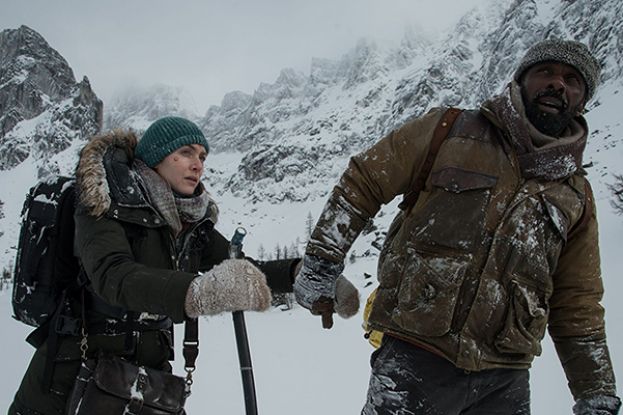 Photo courtesy of 20th Century Fox
Kate Winslet (left) and Idris Elba in the movie, The Mountain Between Us
They don't know each other but they are both desperate to reach their destinations. Dr. Ben Bass (Idris Elba) has a 10-year-old patient waiting for surgery. And photojournalist Alex Martin (Kate Winslet) has to get to her wedding. After the cancellation of their flight due to stormy weather, they hire a charter plane. The plane crashes midflight, the pilot dies, but they, along with pilot's dog, survive the incident with injuries. They battle to survive the subzero weather in the Colorado mountains, trying to hang on until they are found.
The Mountain Between Us is often tedious, but ultimately, an entertaining film and gets a See It! rating.
The plot's not new or unique; there are a number of films before The Mountain Between Us, which were popular with filmgoers including Cast Away and Alive. This movie like others of its type shares the survivors' painstaking efforts to stay alive.
Also, like Hollywood films in general, it makes sure that dogs are unharmed. While Ben and Alex ration the food from the crash and what they are able to scavenge, while showing the effects of not having enough to eat, the dog somehow always seems well fed and full of energy.
The writers do their best to help viewers get to know Ben and Alex but with only modest success. Great writers develop individuals so rich and full that moviegoers could pass tests on the personalities of the characters in the film. However, Ben and Alex remain enigmas.
While not giving too much away, the story does develop in a way that ultimately works.
This is an interracial pairing, yet race is never an issue or even discussed in the film.
The Mountain Between Us gets an "A" for diversity. Obviously, there is a person of color in a leading role; however, there are others in supporting roles.
It's rated PG-13 for a scene of sexuality, peril, injury images, and brief strong language. The Mountain Between Us is 103 minutes in length and is a film you should see.