The Oath is pretty good; I promise [MOVIE REVIEW]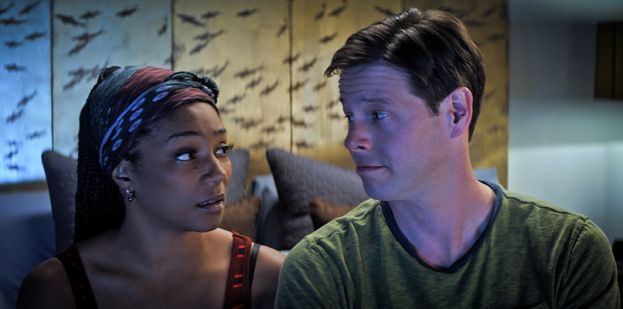 The Oath Photo is courtesy of Roadside Attractions
Tiffany Haddish (left) and Ike Barinholtz in the movie,
In The Oath, the White House announces it is requesting that all Americans take an "optional" loyalty pledge to the president. This request outrages Chris (Ike Barinholtz), a diehard liberal and only fuels his existing anger over the direction the country is heading. He shares his disgust with his wife, Kai (Tiffany Haddish) who appears to be just as offended. As they prepare to host his family for Thanksgiving, he hears stories of people who vocally oppose the pledge being taken from their homes by federal agents. Chris' family comprised of his parents, sister and her husband, and brother and his girlfriend arrive and as Chris expects, there are contentious exchanges among them about the pledge and politics in general. Kai does her best to keep the peace but things only get worse when some unexpected guests arrive.
Writer, director, and star Ike Barinholtz makes a strong statement about America's current political climate in this provocative production. He hits both the government and those who remain quiet and are even supportive of the erosion of U.S. constitutional principles. The characters are authentic and credible, except for the fact that they ALL curse like the proverbial sailor which makes all of their dialogue sound very similar.
Chris' interracial marriage fits his persona perfectly but is not really a major issue in the storyline. Tiffany Haddish continues her tendency, we first saw in Girls Trip, to play the stereotypical, horny black woman. When Chris first hears of the pledge and goes on a rant, her focus quickly becomes getting his pants off.
While the performances are stellar across the board, Ike Barinholtz is exceptional; just as you might expect of someone who writes, directs, and stars in a film.
As to our cast diversity rating, The Oath gets an A-. The cast is relatively small and Haddish, an African American woman and Asian American John Cho have major roles.
Ultimately, The Oath works because it's thought-provoking and takes viewers on an emotional rollercoaster. It gets our highest rating, See It!
It's rated R (for language throughout, violence and some drug use) and is a fast-paced, 93 minutes in length.