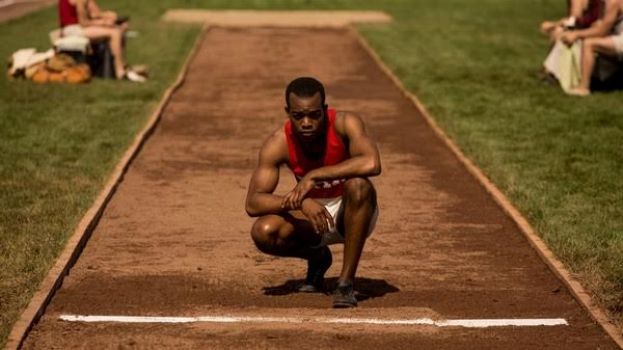 Stephen James as Jesse Owens
It's 1936. The German government is hosting the Summer Olympics. It plans to not just showcase the thoroughly planned event, but also advance its theory of Aryan superiority. At the same time across the Atlantic, a young black American is becoming a rising college track star. Initially, these two developments seem worlds apart. However, they ultimately collide into a history making event.
In Race, Stephen James stars as Jesse Owens. He chooses Ohio State for college because the reputation of its coach, Larry Snyder (Jason Sudeikis). It was Snyder with his perspective as a former track star, coach and student of the sport, who first realizes that Jesse has world class athletic potential. In order to realize his potential as a world-class athlete, Owens needs to focus almost exclusively on training. However, the demands of being a single father who needs to work to support his daughter, and go to school in addition to athletic training, Jesse's distracted. Snyder takes care of the financial issue by arranging a well-paying, no need to show up job for his soon to be star athlete.
This is just a small part of a story that is so complex and enthralling that all it needed was a screenwriter to harness it all in one script.
Even Owens' name has a tale attached. James Cleveland is the legal name given to him by his parents, and J.C. became his nickname. When his elementary school teacher thought he said, "Jesse" when asked his name, the respectful young man was reluctant to correct her. Thus, he became known as Jesse.
Later on the national stage, the American Athletic Union and U.S. Olympic Committee battled over whether the U.S. athletes should even participate in the games being staged by the strongly anti-Semitic regime in Germany.
Ultimately, this film Race, wins because it's historical, entertaining, and intriguing. It also displays the contradictions in both the U.S. and German positions. While Hitler refuses to meet with Owens as he promised he would do with all gold medal winners, the U.S. president, Franklin Delano Roosevelt neither invites Owens to the White House nor acknowledges his accomplishments.
Despite Germany's government policy of disdain for non-Aryans, its people welcomed Owens warmly and cheered for him. Their non-segregated Olympics' facilities pleasantly surprised him. After his amazing feats, Owens returned the U.S., where over a million people line the streets of New York City to watch the parade celebrating the four-time gold medal winner. The contradictions continue when a black-tie dinner was held for Owens in Manhattan, but he had to go through the servant's side entrance to attend his own honorary event.
As stated, this rich story is the true star of this film; but it was brought to life by a championship caliber crew. The supporting cast: Jason Sudeikis; Jeremy Irons as Avery Brundage – Chairman of the International Olympic Committee; William Hurt as Jeremiah Mahoney, a member of the American Athletic Union and the United States Olympic Committee; and Shanice Banton as Owen's wife, Ruth, were all outstanding. But a special nod goes to German actor Barnaby Metschurat, as Joseph Goebbels, the steely and icy Nazi German Minister of Propaganda.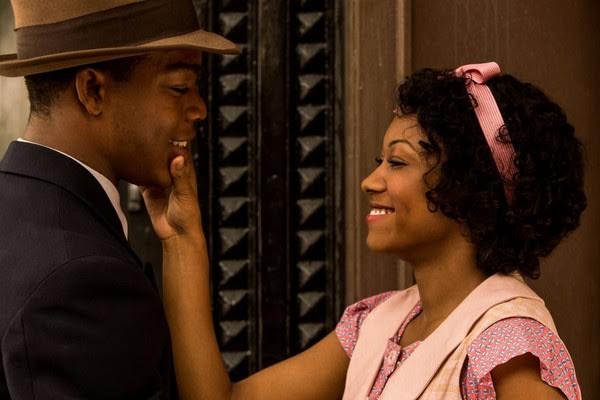 Stephen James as Jesse Owens and Shanice Banton as Ruth Owens, the wife of Jesse Owens
However, Stephen James is a bit understated in the lead role which really called for a more prominent seasoned actor.
Race is a See It. It will captivate you on multiple levels. It's rated PG-13 for its theme and language. It's a long film at 134 minutes. But it's a long story to tell.