Movie Review: Barbershop: The Next Cut
This trip to the barbershop is worth it
It's been a long time – 10 years to be exact – since Calvin's Barbershop last opened. The two stalwarts, Calvin (Ice Cube) the owner, and Eddie (Cedric the Entertainer) who has worked in the shop since Calvin's father was owner are back in their lead roles in Barbershop's third iteration, Barbershop: The Next Cut. Common and Lamorne Morris play Rashad and Jerrod, two of the other barbers at Calvin's.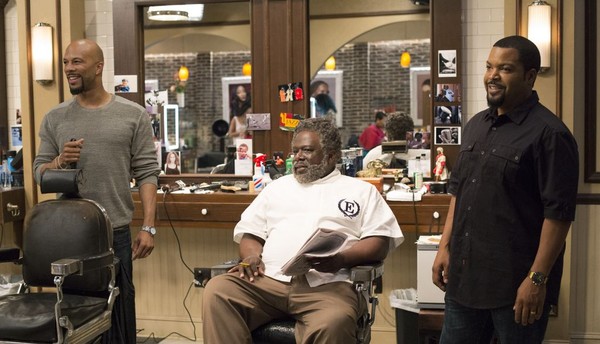 Barbershop: The Next Cut cast from left to right: Common, Cedric The Entertainer, and Ice Cube
The shop which in an earlier version expanded to include a salon for the ladies has also expanded discussion topics from the old list of politics, social issues, and the opposite sex. Those same topics are now enhanced by a verbal battle of the sexes. Angie (Regina Hall) is co-owner and runs the salon. Nicki Minaj and Margot Bingham play stylists on her staff.
Barbershop: The Next Cut is the best one yet! It's funny, dramatic, well-written enriched by great performances. It deals with a catalog of compelling issues: marriage, parenting, dating, urban violence, interpersonal relationships and racial stereotypes.
I am usually not a big fan of films telling urban stories. They often project images with racist stereotypes just as offensive as those that were commonplace in the 1930s and 40s: black characters who are dumb; steal; lie; and who are excessively violent.
This story is about people who range in intellect, values, and goals. It accurately reflects the complex and diverse variety of people in the black community.
The writing is one of the keys to this film's success. The funny lines come at a machine gun rate. Eddie describes the young thugs in the neighborhood as "a bunch of conjugal visits gone wrong". There is the use of the "N" word. And I have always maintained that is not necessary. A creative writer can pen authentic dialogue without using that slur.
The director Malcolm D. Lee takes full advantage of Minaj's "assets". Her breast and butt are on screen so often that they could have been listed as co-stars!
As to our cast diversity rating, Barbershop: The Next Cut, gets a "D". Truthfully, this is not a diverse cast. It is almost an all-black cast, save an Indian-American barber who works at Calvin's and a few white characters thrown in at the end.
Barbershop: The Next Cut is more than just a comedy. It's exceptional filmmaking. It's rated P-13 and is 152 minutes. It gets our highest rating: See It!