MOVIE REVIEW: Almost Christmas is more than Almost Good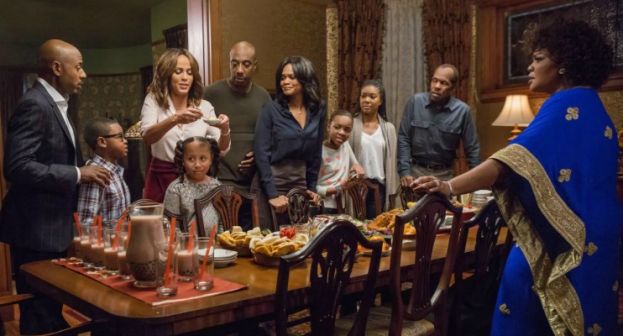 Photo Courtesy of Universal Pictures
The cast of Almost Christmas featuring Danny Glover, Kimberly Elise, Omar Epps, Gabrielle Union and others. Written and directed by David E. Talbert
It's a bittersweet time. Christmas is approaching. Walter (Danny Glover), a retired auto repair shop owner, tries his best to make the most of the holiday season. But it's hard. He lost the love of his life; his wife, the mother of his four children, his beloved, Grace (Rachel Kylian). Things are not completely somber because his four children, two daughters Rachel (Gabrielle Union) and Cheryl (Kimberly Elise) and his sons, Christian (Romany Malco) and Evan (Jessie Usher) are coming home.
The kids are adults with their own array of issues. Rachel and Cheryl never grew out of their sisterly rivalry. Also, Rachel's trying to make it through law school as a divorced mother of a precocious daughter, Niya (Nadej K Bailey). Rachel also does her best to put the brakes on her old high school flame, Malachi (Omar Epps), who still lives in the neighborhood. Cheryl's husband, (J.B. Smoove) is an ex-NBA player with a wandering eye who constantly relives a winning shot he made in an NBA championship game. Son, Christian is married to Sonya (Nicole Ari Parker), is pre-occupied with running for Congress and is paying very little attention to his wife and two children. Then there's Walter's and Grace's later in life, oops baby, Evan, who is a college football star recovering from an injury.
Also, dropping in is Aunt May (Mo'Nique), Grace's sister, a well-traveled backup vocalist for some of the 80s most famous singers.
Almost Christmas shares with viewers the five days of this family's Christmas get together.
Just from the abbreviated plot summary above you can see that this is a very busy storyline. Half the stuff going on, I didn't even include. That's the problem; it's too much. With a large cast and each individual is dealing with multiple issues, it's sort of a Grand Central Station, on screen.
The film features a successful, educated upper-middle-class black family. Yet the writer, David E. Talbert, embraces standard Hollywood African-American gathering must haves: they have to do a partially or fully choreographed dance; there has to be fisticuffs, and there has to be a gun pulled.
Maybe my experiences are atypical. I have been to hundreds of social events organized and attended by black people and I don't recall a single fight and no guns have ever been displayed. However, I have to admit there have been a few dance lines to breakout!
The film's humor is so predictable and is seen coming minutes before it happens. For example, Cheryl's husband takes a tumble after he climbs on the roof to fix a blinking Santa Claus. And it strays a bit from reality. Like the fact that Christian is in the middle of a run for Congress. As a political junkie, I can say, there are no congressional elections or primaries near Christmas.
Almost Christmas does shine in a couple of ways: like the flashbacks of Walter's and Grace's time together. There is a deep and undeniable love between the two that is obvious from character's glances, making words unnecessary.
This is an outstanding cast. It is good to see Danny Glover, Gabrielle Union, and Kimberly Elise among others on the screen. They individually and as a group, just get it done. Great casting of Nadej K. Bailey as Gabrielle's daughter as they have a very strong resemblance. Speaking of Glover, he has involvement in no less than six films between now and the end of next year!
As to our cast diversity rating, Almost Christmas gets a "B". Of course, the cast is primarily African American with a few white supporting actors, like John Michael Higgins who plays Christian's campaign manager. However, there are no Hispanics or Asians in notable roles.
So what's the verdict on Almost Christmas? It ekes out our highest rating, See It! The overall entertainment value combined with a very strong cast makes it worth a trip to the theater. It's about two hours long and is rated PG-13 (for suggestive material, drug content, and language).