A Kickstarter Campaign for Amiri Baraka's Last Play
Kickstarter Campaign to Produce Most Dangerous Man in America
Actor-activist Danny Glover, New Federal Theatre's Woodie King, Jr., and journalist/ author Herb Boyd were among the luminaries who helped announce the launch of a Kickstarter campaign to raise $40,000 for legendary poet, playwright and activist Amiri Baraka's final play, Most Dangerous Man in America, about W.E.B. DuBois. Following opening remarks made by Dr. Khalil Muhammad, Director, Schomburg Center for Research in Black Culture, at a news conference held today, Glover offered homage, saying Baraka helped transform his life in the arts.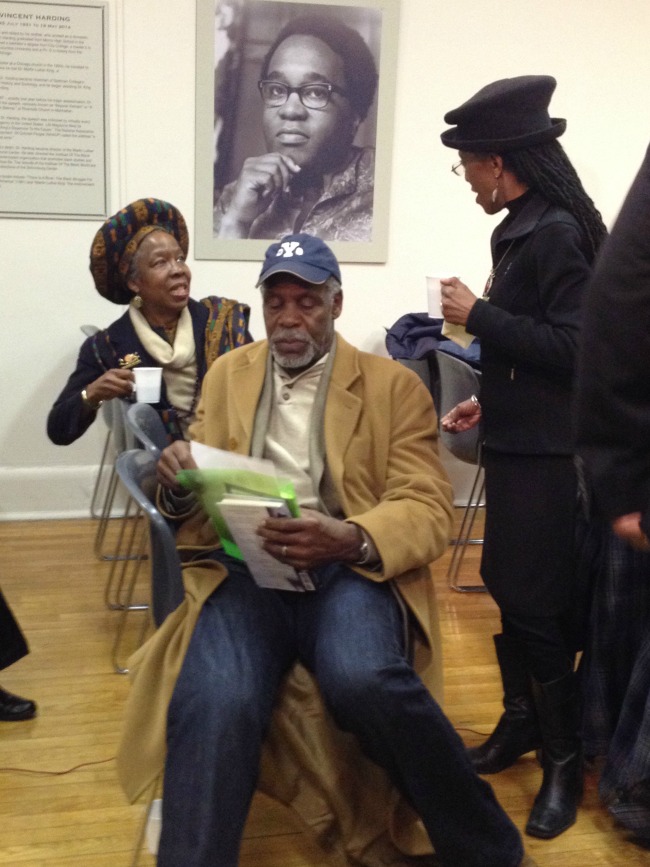 Actor and activist Danny Glover reading notes prior to press conference. Photo Credit: Luvon Roberson/What's The 411 Networks
Glover, whose friendship with the acclaimed writer spanned nearly 50 years, noted, "I met Amiri Baraka for the first time in the Spring of 1967, when I was a 20-year-old student at San Francisco State. Amiri's on-campus presence was essential, and a catalyst for establishing the College of Ethnic Studies, which 45 years later is still the only one in the nation." Glover also said, "Amiri Baraka was the most dangerous man in America! Now, his son, Ras Baraka, is mayor of Newark. Amiri's legacy is that he imparted an understanding of the dialectics of history-making moments."
Scheduled for world premiere on May 28, 2015, Most Dangerous Man in America will be produced and directed by King.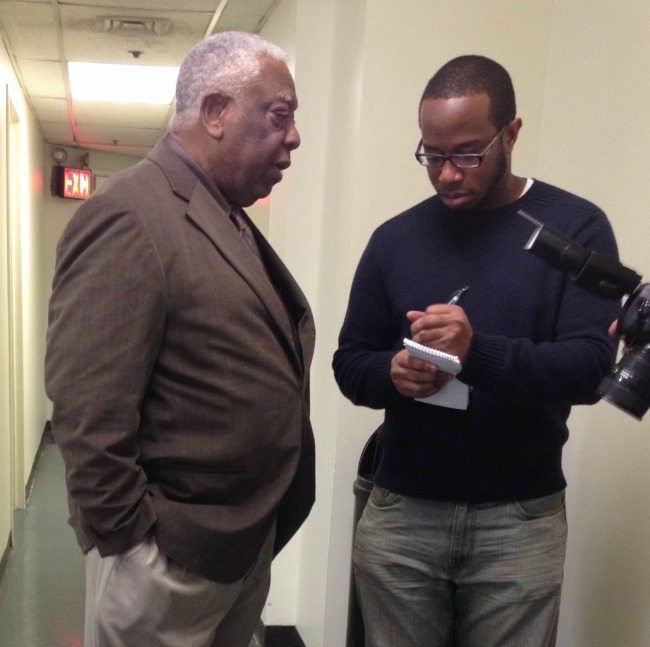 New Federal Theatre Producer and Director, Woodie King, talking with a reporter prior to the press conference. Photo Credit: Luvon Roberson/What's The 411 Networks
"Our Kickstarter donors essentially are producers of a play conceived and written by a world-class theatre icon," said Woodie King Jr., Producer and Director, New Federal Theatre and producer of Amiri Baraka's plays since the 1960s. "They also are investors in both Baraka and DuBois' vibrant, rich legacies through a play depicting the triumph of the human spirit."
Former ABC News reporter Art McFarland will star as DuBois and Petronia Paley as Shirley Graham DuBois. Both actors made brief statements about their roles and the historic play, which dramatizes what many consider to be among the most traumatic events in America during the reign of McCarthyism.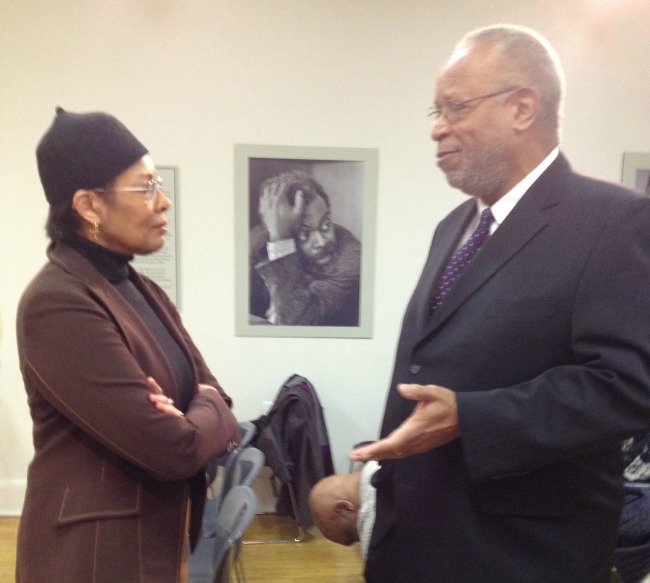 Former WABC-TV new anchor Art McFarland and actress Petronia Paley speaking prior to the press conference. Photo credit: Luvon Roberson/What's The 411 Networks
A world-renowned scholar, historian, author, Pan-Africanist, and civil rights activist, DuBois, a founder of the NAACP and one of the most important civil rights leaders of the first half of the 20th Century, was indicted by the Justice Department/FBI for his peace activism and unrelenting protest against nuclear weapons. Although not convicted at his 1951 trial, the US government confiscated his passport and held it for eight years.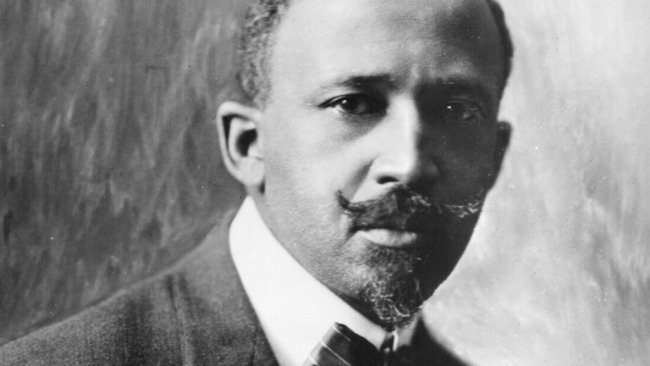 Scholar, activist, and founder of the NAACP. W.E.B. DuBois
Other highlights of the news conference:
- Public Service Announcement (PSA) featuring Danny Glover, Emmy Award winning actor Glynn Turman, poet Jessica Care Moore, and Woodie King, Jr. To watch, click: .
- Tony-nominated actor Ralph Carter's soul-stirring rendition of "Freedom Fighters."
To donate and help raise $40,0000 for Amiri Baraka's final play, Most Dangerous Man in America, go to http://kck.st/1CgGWAU. Pledges for $25 can nab tickets to preview performances of the play; larger amounts can reap big-time rewards, including first-edition copies of books by Amiri Baraka and DuBois, vintage posters, historic magazines, DVDs, and original artwork – or even co-producer credit. Books by famed caricaturist-cartoonist Albert "Al"Hirschfeld will be included among the gifts to Kickstarter donors. The project will only be funded if at least $40,000 is pledged by Sunday, March 1, at 11:59 pm EST.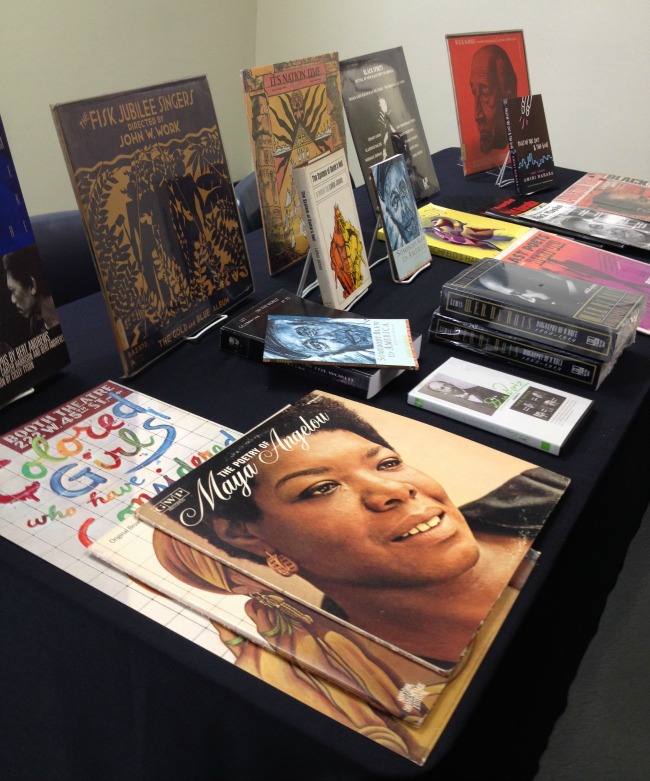 Memorabilia that will be gifted to kickstarter contributors. Photo Credit: Luvon Roberson/What's The 411 Networks
For more information, visit New Federal Theatre on Facebook or at www.newfederaltheatre.com.
Last modified onThursday, 12 February 2015 06:07