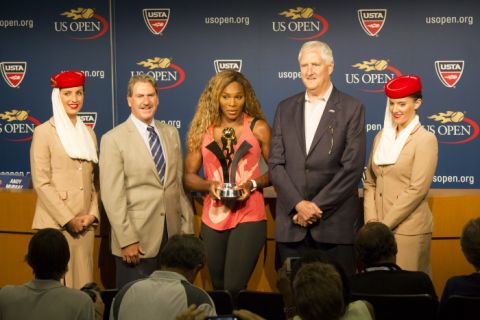 Flushing Meadows, NY - The air is filled with anticipation, as kids from Elmcor Youth & Adult Activities Community Center from Corona, Queens, fill the Grandstand court waiting to meet the reigning US Open Women's Champion, Serena Williams.
The Back Story at the US OPEN 2014
It is Thursday afternoon of "Qualies" week and after participating in the Open "Draw Ceremony", the No.1 Women's Player in the world who had already appeared on Dave Letterman the day before, will be front and center during Arthur Ashe Kids Day in two days on Saturday. I mention these activities because I think we take for granted the Williams Sisters and Serena especially and the hefty responsibilities that she and her sister have carried for the better part of 15 years as the best of American tennis and never more so than now. It's amazing to watch them handle their media and philanthropic obligations, play singles and doubles in the same day, and on consecutive days. It really shows how strong-willed they are, their incredible commitment, sacrifice and desire to win and how important it is to have that strong family bond that their parents created from the start. It's also been a real boon, as fan favorites, to the entertainment value of each day's US Open ticket, to have them as part of the daily draw.
An unfortunate casualty of the first round draw was pitting the defending champ against American Junior Champion, Taylor Townsend of Chicago. The eighteen year old lefty, as an American and African American, may have made some noise in the tournament, if not for playing her mentor and friend in the opening round. That is correct, I said friend, as we confirmed in Serena's first interview, when asked What was your initial reaction when you found out you were opening against top ranked junior, Taylor Townsend?
"Yeah it's going to be a great match for me," said Serena. "She's such a great player. Extremely young, I have been able to see her play a little bit. She does everything really, really well. We're really good friends. We always talk and always text each other. It's going to be a really tough match for me."
I followed by asking about her thoughts on the history that lay ahead.
"You talked after winning the Western & Southern, you feel like you could play for a long time," I said. "If you get to 22 or 23 Grand Slam titles might you decide to hang them up?"
"Well, that would be just really amazing if I can make it that far,' she said. "Competition is a little stiff now, so I have to do the best I can and I can't even think that far to be honest."
Watch Video: Serena Williams on Getting to 22 or 23 Grand Slams
"Well would you consider it an unsuccessful year if you don't win a Grand Slam," I asked.
"Probably, yes," Serena stated. "But there's always next year and the year after, so I don't necessarily – you don't give up. You just keep going and you keep fighting to continue to win more."
Watch Video: Serena Williams on If She Didn't Win a Grand Slam This Year
How is your school in Kenya going," I asked switching the subject.
"It's going good," responded Serena. "We just had a great update. We built a new building. It's been really, really amazing".
A reporter asked Serena that a couple of people had heard that she was having a show for Aneras in a couple of months and asked if she could talk about it.
"Yeah, no; I'm having a fashion show for Serena's Signature Statement and I'm launching Aneras," Serena Williams responded. "They are two totally separate fashion lines. This show we are doing for fashion week, New York has always been a dream of mine to have a fashion show at NY Fashion Week. We are doing the collection that sold on HSN for Serena's Signature Statement. We have casted the models and it's been a really great experience. I'm really excited and nervous at the same time to see the reactions and hopefully we'll get a full house."
Watch Serena Williams talk about her fashion line, Serena's Signature Statement
During her early matches Serena's biggest challenge was the unpredictable winds that made consistent serving difficult, until adjustments could be made, but her opponents never really threatened her, as she never conceded more than 3 games in any set, winning each match in straight sets as she did in two previous title wins. Although she hadn't really been tested in the singles and unfortunately lost in the doubles with sister Venus, this is the first Grand Slam all year that she had reached the Singles Quarterfinal round and it showed as she raised her arms in victory over Kaia Kanepi in the 4th Round and gave a ball to an adoring fan and emphatically declared to the cheering crowds "I made it to the Quarterfinals!" And with all that was riding on it, it seemed like destiny, here's what was at stake.
The milestones are historic:
-15th Anniversary of her first Grand Slam victory, and US Open - the 1999 US Open.
-18th Grand Slam Title which ties her with Chris Evert & Martina Navratilova, for fourth all time. Margaret Court (24), Steffi Graf (22), Helen Wills Moody (19)
-She is a three-peat US Open Champion, winning the Open 3 years in a row.
-Her 6th US Open Title overall, tying Chris Evert for top honors.
-At 32, Serena continues to extend her reign as the Women's Champion with the greatest number of years between her first and last titles (15)
-She is the 2014 Emirates Airlines US Open Series Champion winning an additional $1MM and Serena's prize money has made Women's Tennis history, taking home a record $3MM check for a new highest payday in tennis and wining $4MM total after clinching the title. She already holds the previous record at $3.6MM, with Rafael Nadal, for winning it last year.
In our last interview we asked her what we know everyone's been dying to know.
"Does the new leopard print outfits mean the "catsuit" might be making a comeback," I asked.
"That's a good question," said Serena. "We all loved the catsuit; at least I did."
"Gives us hope," I responded.
"Keep hope alive," Serena added.
"Where is the catsuit," another reporter inquired.
"Yeah, I have all of my outfits. I saw it the other day actually in my closet, Serena said.
"Sounds like a hashtag campaign," I added.
"Right," Serena concurred and then added, "Of course hashtags didn't exist back then."
So please hit us up at #411SportsTV and join the #BringBackSerenaWilliamsCatsuit campaign.
Watch Serena Williams Talk About Her Famous Catsuit
All jokes aside, Serena Williams' victory in the US OPEN 2014 Women's Final over close friend Caroline Wozniaki (6-3, 6-3) was another seminal moment in arguably the greatest female athlete's career ever and it makes us even more excited about 2015 and going down under to Australia...we'll see ya there.