My Girlfriend's Closet Brings Glamour to New York Fashion Week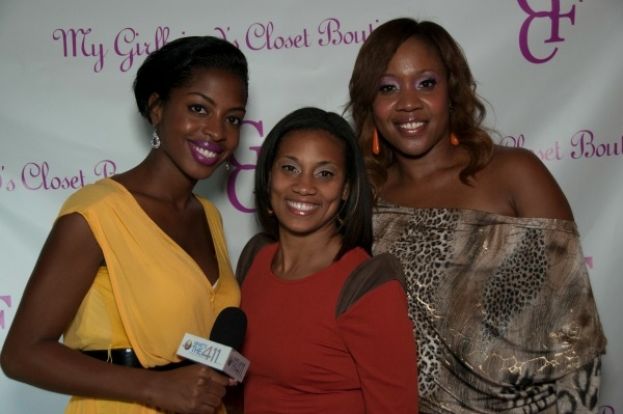 Photo Credit: Alexis Williams/What's The 411 Networks
Left to right: What's The 411 reporter, Crystal Lynn talking with the founders of My Girlfriend's Closet, Valerie Morrison and Saffiyah Rodgers
First-cousins Saffiyah Rodgers and Valerie Morrison grew up lending clothes to their girlfriends. In 2010, they combined their fashion and marketing backgrounds and came up with a closet.
"Our friends admired our style and always wanted to borrow stuff from our closet, so we decided to come up My Girlfriend's Closet."
Rodgers and Morrison spoke with What's The 411 TV's correspondent, Crystal Henderson during New York Fashion Week S/S 2013 at Stitch Lounge, where they celebrated the second anniversary of My Girlfriends Closet Boutique and unveiled their online campaign, My Glamorous Girlfriends.
My Glamorous Girlfriends represents five successful women--daring to be different, while embodying glamour.
The fab women-- Dr. Robi Ludwig (NBC Today Show & Huffington Post), Carissa Rosario (International Model & Model Genius), Angela Yee (Radio Personality on Power 105.1), Tiffany Banks (Plus Size Model & TLC's Big Sexy) and Brianna Colette (Recording Artist).
Dr. Robi Ludwig (so cool and down to earth) also stopped by to speak with us and expressed how thrilled she was to be a part of My Glamorous Girlfriends.
"I was invited to highlight my clothes during a media company (for My Girlfriend's Closet) and we had a great time that day. A bunch of ladies having a lovely time, and it was exactly what it needed to be."
Every girl wants something from her girlfriend's closet; be sure to visit www.gfcboutique.com!
CHECK OUT THE VIDEO!