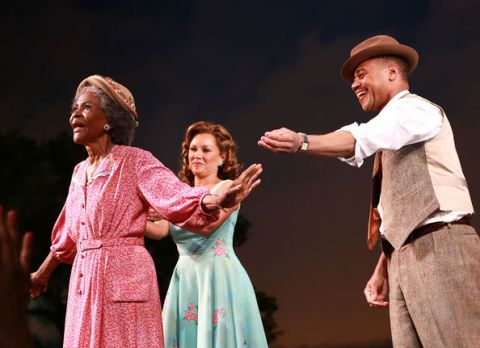 On Wednesday, August 14th, I had the privilege to attend a showing of the critically acclaimed revival of Horton Foote's masterpiece, The Trip to Bountiful. Starring Cicely Tyson, Vanessa Williams, and Cuba Gooding Jr., it tells the story of Carrie Watts (Cicely Tyson), who is living in a small Houston apartment with her soft-spoken son (Cuba Gooding Jr.) and very out-spoken daughter-in-law (Vanessa Williams).
Carrie dreams of returning to her home in a small gulf coast town called Bountiful where she grew up and raised her family. Sneaking away with her latest pension check, Carrie heads to Bountiful for the journey of a lifetime. The result is an unforgettable play about the idea of home and its power to sustain us.
This being the first Broadway show I have ever attended I was amazed and in awe of the performances, set design and overall experience. From the serious moments to the downright hysterical, I was enchanted by it all. The main cast and ensemble were a sight to behold.
After the show's end, the audience was treated to a special post show talkback with cast members Vanessa Williams, Tom Wopat and Adepero Oduye. The event, moderated by writer and critic Caryn James, gave a behind the scenes look at the creative process of the show. The actors were very candid with both the interviewer and the audience and were open to any questions, which was a real treat for all in attendance.
I highly recommend this show and strongly encourage you to join the list of celebs that have seen the production. They include: Denzel Washington, director Kenny Leon, Whoopi Goldberg, Diahann Carroll, and Harry Belafonte.
Go see it before it ends on October 9th, 2013.
There is currently a 2 for 1 ticket sale going, get tickets while you still can! http://bit.ly/14tzodB