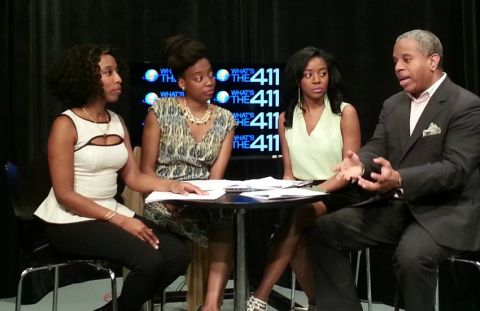 What's The 411, a weekly celebrity-driven urban entertainment and lifestyle television show, celebrates its 20th year with a change in format.
What's The 411's leaves behind a straight magazine format and embraces a format of news, commentary, and featured interviews.
The first episode of this new format also sports three new hosts BIANCA PEART, GLENN GILLIAM, and JACINDA MOTTON. A search is on for the fourth host and will join the show in a couple of weeks.
This episode featured a conversation about Hollywood couple ROBIN THICKE and PAULA PATTON'S split; the NAACP Image Awards; NICKI MINAJI'S inappropriate use of a MALCOLM X'S photo; KEVIN HART'S seemingly meteoric rise; BEYONCE'S position of top of the earnings heap; DENZEL WASHINGTON and LATANYA RICHARDSON in the Broadway production of LORRAINE HANSBERRY'S A Raisin in the Sun; MICHAEL B. JORDAN'S upcoming role in the Fantastic Four.
The celebrity-laden red carpet at the NFL's Super Bowl Gospel Celebration founded by MELANIE FEW-HARRISON is the featured interview. What's the 411 reporter CRISTINA TWITTY hosts this video package, which includes gospel sister duo MARY MARY, American Idol Season 12 Winner, CANDICE GLOVER; AJ CALLOWAY, former host of BET's 106th & Park; gospel singer NATALIE GRANT; and members of the NFL Football Players Gospel Choir: JASON AVANT, TRENT SHELTON; and QUINTIN DEMPS.
The NFL Super Bowl Gospel Celebration was hosted by WENDY WILLIAMS and AJ CALLOWAY. R&B songbird PATTI LABELLE was the featured singer.
Check out video of new episode here: