AJ Calloway Witnesses Hip-Hop History at Central Park Summerstage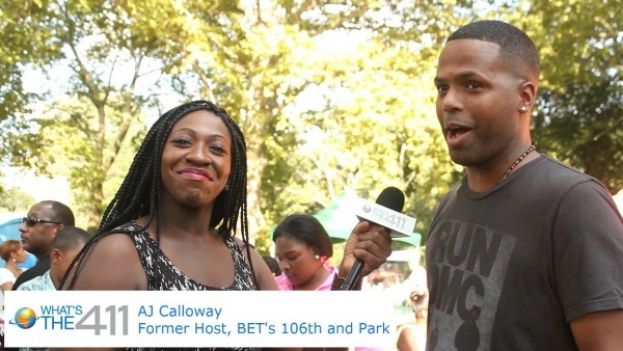 Photo Credit: Alexis Williams/What's The 411 Networks
AJ Calloway, former host of BET's 106th and Park, talking with What's The 411 reporter, Cristina Twitty at the Celebration of 40 Years of Hip-Hop in Central Park in New York City
WATCH VIDEO: AJ Calloway Talking About Hip Hop
What's The 411TV correspondent, Cristina Twitty, ran into AJ Calloway, former host of BET's 106th and Park at Central Park Summerstage's 40 Years of Hip-Hop Celebration.
You know Cristina had to find out of all the hip-hop artists who were there to perform, which one did AJ come to see?
"Everybody that has been on that stage so far is a hip-hop legend and I came to see everybody, from Soul Sonic Force to Kool Herc to Big Daddy..., everybody," said AJ trying to be politically correct.
AJ also refused to pick a favorite album or a favorite artist.
"So what does it mean to be here at the 40th Anniversary of Hip-Hop Culture," asked Cristina.
"I owe everything to hip-hop, so I had to come here to tip my hat, stand to the side and watch my heroes on stage," AJ added.
"I actually enjoy that hip-hop more than the ... hip-hop now and I'd love to see hip-hop go back to its roots," he continued.
What do you think is missing from hip-hop now?
"Substance," replied AJ.
Last modified onSaturday, 10 November 2018 01:10