Three-Time Grammy-nominated artist Nelson Frank Knows NOTHING'S IMPOSSIBLE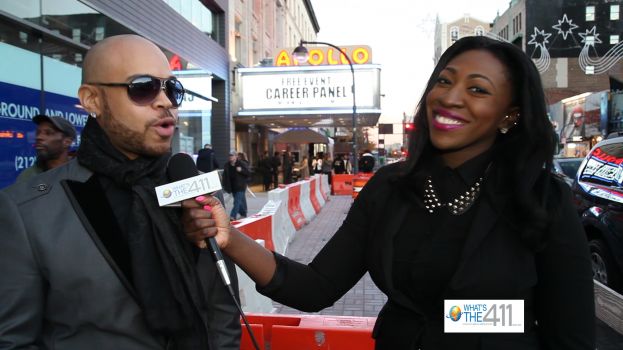 Photo Credit: Alexis Williams/What's The 411 Networks
Grammy nominated recording artist, Nelson Frank talking with Whatt's The 411 music reporter Cristina Twitty
On November 18, 2013, my videographer, Alexis Williams, and I met on 125th Street in Harlem, New York to interview NELSON FRANK, an R&B singer, producer, songwriter, and Grammy-nominated artist about his new solo project, NOTHING'S IMPOSSIBLE.
WATCH NELSON FRANK INTERVIEW
Nelson has been writing songs since he was 14 years-old, and naturally, I had to know when he decided to pursue music professionally.
"I would say about six years-old, the three-time Grammy-nominated Nelson Frank responded. "That was the first time I got on stage and from there it has been a bug for me, it has been that high for me, that natural high."
Nelson Frank's career got rolling after winning a competition at the BET Sound Stage Concert.
What was that like?
"Oh it was awesome, it was a great experience for me, Nelson Frank recounted. "At the time I was with my group MOET and that particular performance allowed us to open up for GINUWINE and K.C. and JOJO that night, which led to me getting signed to Ginuwine because he came to that performance, he saw us, he was blown away, he was like I want to sign you guys and from there my career skyrocketed."
Skyrocketed, indeed! Nelson Fran has written for LATOYA LUCKETT, OMARION, KESHIA COLE, TANK, and GINUWINE, etc.
So with all that success as a songwriter what would make Nelson Frank pursue a solo career as a singer.
"I never wanted to be a solo artist, Nelson Frank responded. "I love harmony, I being in bands and groups and things of that nature."
So what happened?
Nelson Frank's good friend, CHINK SANTANA, encouraged him to go solo after hearing his record.
"You have to take this and go with it man," Nelson Frank said describing his conversation with Chink Santana. "You can't keep selling all your material. You have the look, you have the work ethic, and everything. You should go do it."
So who would Nelson Frank like to collaborate with in the future and who is his favorite artist that he has already worked with?
"First, PRINCE, Nelson Frank said without hesitation. "I would love, I don't care if I could just, if I could just put a little "Oww" or something on a Prince track, I would be excited and I would say RON ISLEY up to this point. Working with Ron Isley was just amazing; it was a great, great experience for me."
And, what's Nelson Frank's favorite song he has ever produced or co-written?
"Wow, wow," Nelson Frank said reflectively. "It's so many because every song is so special to me; but I would definitely go with Pleasure P's, UNDER, because to me that's a great R&B record and for it to be his first album and for it to be nominated three times for a Grammy that was just an awesome experience for me."
You know the music industry is known for putting people in a box. However, Nelson Frank is not about to be placed in a music genre box and like most recording artist today he is conscious about branding himself.
In elaborating on the Nelson Frank brand, he said, "Everything is a classy affair, everything. I try to make sure the music itself has integrity. I don't have a lot of cursing, it's not too raunchy. Of course, I'm a little edgy here and there, but it's just enough I think."
You can hear Nelson Frank sing a couple of bars from I'm Losing You, one of the songs from his forthcoming album, NOTHING'S IMPOSSIBLE.
Be on the lookout for NOTHING'S IMPOSSIBLE, Nelson Frank's first album set for release in 2014.
Follow Nelson Frank, @IamNelsonFrank.
Videography by: Alexis Williams
Last modified onSunday, 07 September 2014 04:38
Latest from Cristina Twitty