Wendy Lewis Bursting with Pride at Major League Baseball's Diversity Summit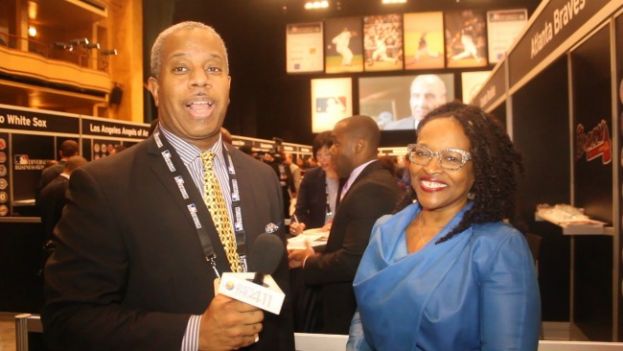 Photo Credit: Alexis Williams/What's The 411 Networks
What's The 411Sports host, Glenn Gilliam, talking with Wendy Lewis, Vice President of Diversity and Strategic Alliances at Major League Baseball
The Collaborative Effort Makes Her Spirit Sing
Excited about the success of Major League Baseball's Diversity Summit 2014, Wendy Lewis, Vice President of Diversity and Strategic Alliances, told What's The 411Sports host, Glenn Gilliam, that the collaborative effort "makes her spirit sing." Ms. Lewis receives great support and enthusiasm from Commissioner Allan "Bud" Selig, Jonathan Mariner and MLB's 30 baseball clubs in the execution of the MLB Diversity Summit.
This is MLB's third diversity summit. It is however, the first in New York City and it opened on Jackie Robinson Day. The Jackie Robinson family will attend a ceremony on the second day of the summit. In addition to Sharon and Rachel Robinson, members of Mr. Nelson Mandela's family will also be in attendance at Yankees Stadium for the ceremony on the second day of the summit.
MLB has taken the lead on diversity and inclusion in sports and has given diversity and inclusion consultation to the other major sports. However, Ms. Lewis knows that the other sports will do things their way and perhaps, one day they will all do something together.
Major League Baseball is different; it does have a special calling.
"We have the legacy," Ms. Lewis stated. "We have the DNA of Jackie Robinson so I think we have an extra source of responsibility here".
Given the legacy of Jackie Robinson, it is disturbing to many that baseball now has the lowest number of African-American players of the top three major sports leagues: baseball, basketball, and football.
Addressing the dearth of African-American MLB players, Commissioner Selig in April 2013, launched the On-field Diversity Task Force to design ways improve the African-American player pipeline.
Major League Baseball is also a big supporter of the Negro League Baseball museum.
Ms. Lewis joined MLB Commissioner's office after spending eight seasons with the Chicago Cubs.
View Video Interview with Ms. Wendy Lewis
To see our videos when they are posted, subscribe to our YouTube channels: WhatsThe411TV and 411SportsTV