Francis Lewis High School Wins PSAL "AA" Division Girls Basketball Championship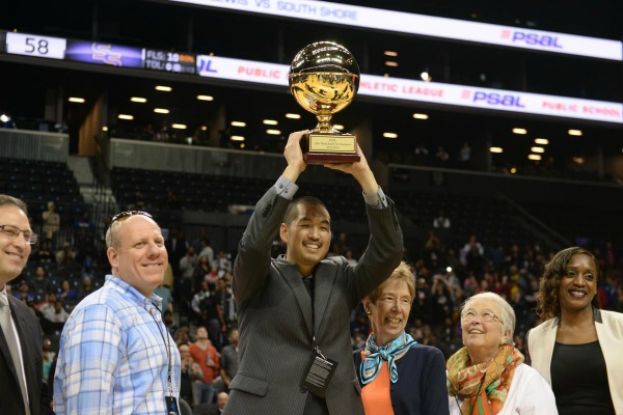 Photo Credit: Mark Bonifacio
Francis Lewis High School Girls Head basketball Coach Stephen Tsai hoisting PSAL AA Divison Girls Basketball Championship trophy
On Saturday March 8th, the PSAL was the talk of the town throughout New York City as thousands of high school students, families, and friends watched the #3 seed Lady Patriots of Francis Lewis of Queens take on the #1 seed Lady Vikings of South Shore of Brooklyn for the 2013-2014 PSAL "AA" Division Girls Basketball Championship at the Barclay Center.
The last time these two teams met was during the regular season on December 2nd when South Shore lost to Francis Lewis 76-73. South Shore, coached by Anwar Gladden, beat #4 Midwood High School in the semi-finals to advance to the title game for third time. Francis Lewis, coached by Stephen Tsai, last appeared in the championship game in 2006. They beat #2 Murry Bergtraum in the semi-finals to advance to this year's championship game.
Francis Lewis led South Shore most of the 1st quarter until South Shore's biggest (and only) lead was by seven points 04:19 in the 1st quarter. Francis Lewis then caught up, led throughout the 2nd quarter, and went into halftime 27-18. Francis Lewis's sophomore Sierra Green led the team with 14 points by halftime. South Shore showed the intensity and heart as they caught up with Francis Lewis in the second half. But the Lady Patriots were too much for the Lady Vikings to handle as Francis Lewis won the PSAL title game over South Shore 65-58.
South Shore's Brianna Fraser (junior) ended her post season with 26 points and 15 rebounds. She also received the PSAL Sportsmanship Award while her teammate Ashley McDonald (junior) received the PSAL Student-Athlete Award. Francis Lewis's Christina Huerta (sophomore) received the PSAL Student-Athlete Award. Finally Sierra Green received the PSAL MVP Award, ending her post season with 21 points in the title game.