A Journey into Wellness Education with Queen Afua and Her Family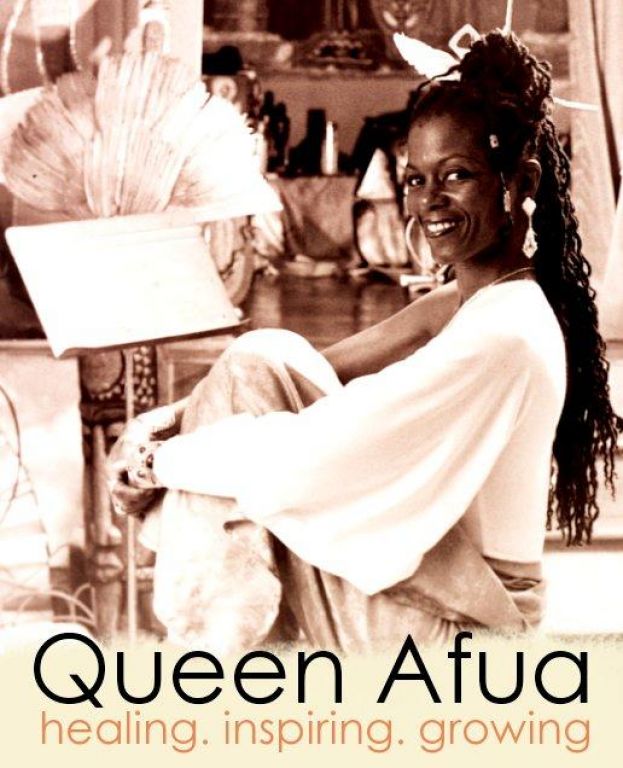 Queen Afua, a legendary holistic and wellness healer
I always wanted to know what it would be like to obtain a healthier lifestyle in a holistic fashion. That's why I was excited to attend a wellness gala given at the Nicholas Bookstore in Brooklyn to celebrate the legacy and 60th birthday of holistic healer, Queen Afua. She is the founder of the Global City of Wellness Institute, a set of schools that trains future leaders in principles of personal, physical, and emotional wellness. The gala also celebrated the return of her son, Supa Nova Slom, from his recent U.S. Army service in Afghanistan.
A world-renowned certified holistic health specialist, Queen Afua, has shared messages of spiritual healing to various institutions such as NASA and The Coalition of 100 Black Women, as well as with audiences in the Caribbean, Europe, and Canada. Her essays and articles have been published in various newspapers and magazines where she shares her views on health and longevity; and health issues that threaten urban communities. Queen Afua has changed the lives of thousands through her cleansing formulas, her one-day seasonal fasting retreats, books, and holistic empowerment workshops.
To get healthy, "first you need a vision of what your purpose is..."she said.
One needs to determine if the purpose to lose weight, find internal healing, or overcoming diseases such as diabetes, fatigue, or stress. Next, the 21-day journey begins using her detox program including formulas and tablets to overcome all that is clouding one's health and lifestyle.
So how did Queen Afua get to this place of natural healing? Did she grow up this way?
Not really, she made the change to holistic healing as she said to me using the civil rights activist Fannie Lou Hamer's quote, "I was sick and tired of being sick and tired" and came to the conclusion that "it was time for a change."
From seven to seventeen years of age Queen Afua was sickly, experiencing mood swings, PMS, chronic asthma, and other chronic diseases. In her quest to get better, she was invited by a friend to a healing retreat. After fasting for one day her body changed for the better.
From that point on, she became a holistic life coach because "whatever the issues are," she said to me, "in nature we can heal ourselves."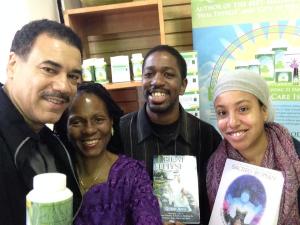 Queen Afua's two sons, whom she refers to as her "phenomenal sons," were born vegans. Her youngest son, Ali Torain (aka Ali the Great), is CEO of Queen Afua Enterprises and trains in (non-competitive) bodybuilding.
"...In our journey you don't get respect as a man unless you have a certain presence," he said before the conference. "A lot of men get respect when they show the ability to look good and have bodies that are fit."
Ali talked about growing up with his brother as vegans and even today he prefers to get his protein from fruits and vegetables. He's been preparing vegan dishes since he was 17 years-old. He later became a professional chef and then started working alongside his mother teaching the value of healthy eating.
Supa Nova Slom is Queen Afua's oldest son. His book, THE REMEDY, explains his passion for a healthy lifestyle. A member of a hip-hop group, The Cosvarti, Supa Nova uses hip-hop as a platform to address social and political issues that affects today's communities. Influencing the nutritional habits of various artists such as Erykah Badu, T.I., Jada Kiss, and The Game, Supa Nova is known as Hip-Hop's Medicine Man. One doesn't readily think of vegans in the military, but he's also an active duty soldier.
"I joined the military because I wanted to challenge myself," Supa Nova stated. "I wanted to have the experience to serve my country and see if I can really survive that experience."
When Supa Nova was deployed to Afghanistan, he was a member of the Special Forces Unit. He called his experience in the military spiritual. Wellness was his ministry, as he spread his message to his fellow soldiers and superiors so they could maintain mental, physical, and spiritual stability in the midst of war. Supa Nova shared with his fellow soldiers his wisdom of survival through the benefits of "juicing" and his product, "Supa Mega Greens," a health supplement made of natural plants. There were times when the Taliban fired shots at his camp while they were juicing.
"If I could be dodging rockets and small arms fire everyday for nine months, and I'm still meditating, still juicing, still praying, still doing the right thing, eating right in the midst of that, I don't want to hear nothing about you can't be awesome," he said.
Supa Nova's new platform, "No Excuse Wellness," is a message that is a blend of military and popular culture and it fits in with his style.
It will also fit in with the family's new venture. During the conference, Ali The Great introduced the launching of the First Family of Wellness and its platform for the Global Nation of Wellness. So look out for Queen Afua and her sons, as they will be touring major cities throughout the United States starting this fall.
"The healing of a nation begins with oneself," and "the power to heal is within you and you have the power to heal yourself," Queen Afua stated emphatically with a dash of regality.
Last modified onSaturday, 26 November 2016 06:12