Floyd Mayweather, Teddy Bridgewater, the Donald Sterling Saga, Rapper 50 Cent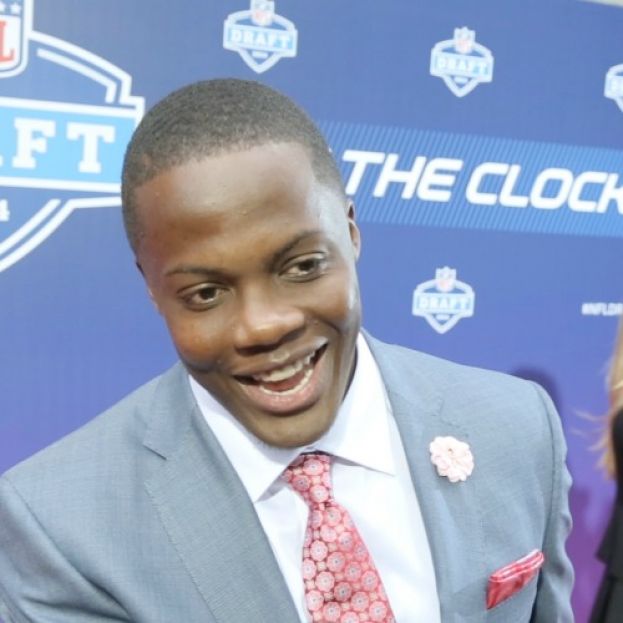 NFL Draftee Teddy Bridgewater talking with What's The 411Sports reporter Glenn Gilliam (off camera) on the red carpet at the NFL Draft
VIDEO CONVERSATION: Teddy Bridgewater, NBA FINALS, Serena and Venus Williams, Deron Williams, Anthony Mackie, and more
The DONALD STERLING saga: SHELLY STERLING sold THE LOS ANGELES CLIPPERS to former MICROSOFT CEO, STEVE BALMER
The NEW YORK RANGERS playing the LOS ANGELES KINGS for the STANLEY CUP
NBA FINALS: a repeat of the MIAMI HEAT V. THE SAN ANTONIO SPURS
LANCE STEPHENSON'S antics. Immaturity or much ado about nothing? Is STEPHENSON taking zeroes off of his next check?
BROOKLYN NETS GUARD DERON WILLIAMS underwent successful ankle surgery. BIANCA PEART gives a rundown of D-WILL'S recuperation period and his expected time to return to the team. GLENN GILLIAM asks did WILLIAMS get surgery on his heart. CHRIS GRAHAM says he'll be back before DERRICK ROSE.
SERENA, VENUS, STEPHENSON, and FEDERER are out at the FRENCH OPEN. According to GLENN GILLIAM, the FRENCH OPEN commentators treat the foreigners better than the Americans; GLENN'S also disturbed that SERENA was in and out because she didn't bring her a game. BIANCA added that SERENA was sitting courtside at GAME 6 of the MIAMI V. INDIANA PLAY-OFF GAME.
LOOKING AT WHAT'S FLYING UNDER RADAR
Eighteen-year-old tennis sensation TAYLOR TOWNSEND beat 21st-ranked ALIZE CORNET in the FRENCH OPEN.
The 205th-ranked TOWNSEND'S feat made her the youngest U.S. woman to advance to the third round at the FRENCH OPEN since 2003 -- is even more impressive considering just two years ago, the U.S. TENNIS ASSOCIATION attempted to keep her out of competition at the U.S. OPEN. It was suggested they would not restore their support until the teen, then the top-ranked junior player in the world lost weight.
RAPPER 50 CENT
It looks like TAYLOR TOWNSEND has better aim than 50 CENT. The rapper was on a publicity tour and displayed his poor pitching abilities at a recent METS game. He threw the ball very wide left; 50, stay in your lane!
WHO IS IN THE DOG HOUSE?
It's DOG HOUSE time and it seems like by the end of the segment, GLENN GILLIAM put both FLOYD MAYWEATHER and T.I. in the DOG HOUSE for MAYWEATHER'S inappropriate relationship with T.I.'S wife, TINY and for telling T.I. that he needs to check his "BITCH." T.I. seems to be in the DOG HOUSE for seemingly boasting that he went toe-to-toe with MAYWEATHER.
WHAT'S IN THE SPORTS PIPELINE:
Actor ANTHONY MACKIE is shopping a JESSE OWENS biopic.
ANTHONY MACKIE, of CAPTAIN AMERICA fame, is shopping around a JESSE OWENS biopic with WE ARE MARSHALL writer JAMIE LINDEN, ACCORDING TO DEADLINE. The would-be movie, which MACKIE would produce and star in, focuses on the lead-up to the 1936 BERLIN OLYMPICS, where OWENS won four gold medals in the shadow of HITLER'S REGIME.
The NBA DRAFT is on Thursday, June 26, 2014
FIFA WORLD CUP starts Thursday, June 12, 2014.
NOTE: What's The 411TV hosts' comments are their own and not necessarily the opinion of What's The 411 Networks.