US Tennis Association Celebrates Diversity and Inclusion at 2012 ICON Awards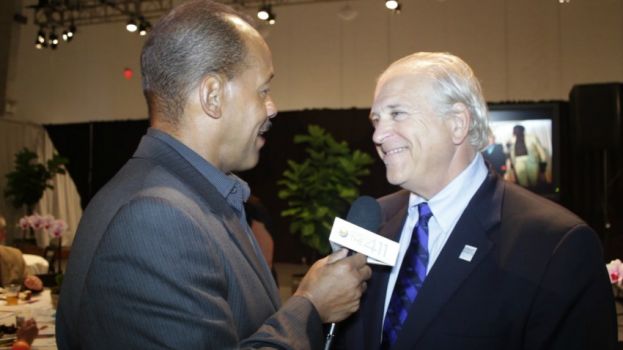 Photo Credit: Alexis Williams/What's The 411 Networks
Jon Vegosen, Chair, USTA Board of Directors talking with What's The 411 reporter, Andrew Rosario at the USTA ICON Awards
Jonathan Vegosen, President and Chairman of the Board, USTA; spoke with What's The 411 TV's Andrew Rosario about the mission of the U.S. Tennis Association and the USTA ICON Awards.
The 2012 USTA ICON Awards in its fourth year and held at the US Tennis Center during the US Open, celebrates diversity and inclusion. This year, the USTA ICON Awards honored Pat Summitt, the former University of Tennessee Women's Basketball Head Coach and now Head Coach Emeritus, with the Billie Jean King Legacy Award. Ms. Summitt is the all-time winningest coach in NCAA basketball history of either a men's or women's team in any division.
The association also honored posthumously 2012 International Tennis Hall of Fame inductee and wheelchair tennis pioneer Randy Snow and former USTA CEO and pioneer of the Diversity and Inclusion Department at the USTA, the late Lee Hamilton.
WATCH VIDEO