D.A. Abrams: Using Diversity and Inclusion as a Strategy for Growth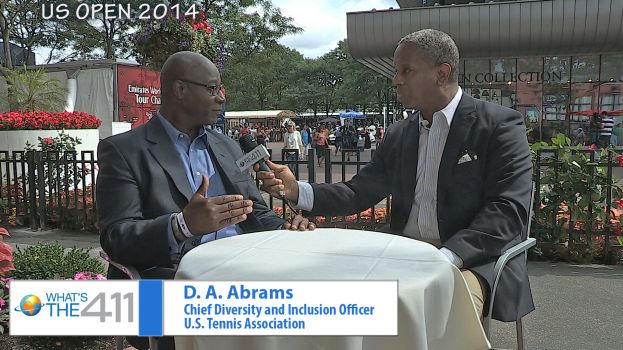 Photo Credit: Clyde Davis/What's The 411 Networks
D.A. Abrams, Chief Diversity and Inclusion Officer, U.S. Tennis Association, speaking with Glenn Gilliam, host of What's The 411Sports
D. A. Abrams has spent most of his career, and probably his life, in tennis. As the United States Tennis Association's Chief Diversity and Inclusion Officer, Mr. Abram's primary focus is to use the strategy of diversity and inclusion to grow the sport of tennis in United States.
The USTA recognizes that there is a demographic shift happening in the United States and that there are more people of color living here currently and the numbers are projected to grow rapidly. Smartly, the USTA is not resting on its laurels. The organization is employing a top-down, "all hands on deck" approach to diversity and inclusion to grow the organization and the sport of tennis. Abrams knows that if more people of color are doing well in the sport of tennis, more people of color will be attracted to the sport.
"The mission of the United States Tennis Association is to promote and develop the growth of tennis," D.A. Abrams told What's The 411Sports host, Glenn Gilliam during the U.S. OPEN 2014. "So the way in which I like to describe what I do is making tennis look like America and we have an all-hands-on-deck approach, to how we intend to make that happen. We have a strategic direction of six different pillars which... it really covers everything, not just young kids playing tennis. Everything from the volunteers, to the staff, to supplier diversity, you name it, we're trying to touch it all."
The six pillars that undergirds the USTA's strategic approach to growing tennis through diversity and inclusion are:
• Human Assets
• Image
• Supplier Diversity
• Sections and Community Engagement
• Strategic Partnerships
• Training and Development
Abrams, a native of Philadelphia, grew up playing tennis through the National Junior Tennis & Learning system in Philadelphia. He credits Arthur Ashe for his motivation to play tennis after seeing Arthur Ashe playing tennis on television. Abrams didn't turn pro, but much to the delight of his parents, he was good enough to receive a tennis scholarship to pay for his college expenses. Abrams' first job out of college was with Control Data Corporation in St. Paul/Minneapolis. However, working as an accountant with a supercomputer company just didn't feed his soul and when the first opportunity to work in the tennis industry presented itself, Abrams was on the first train back to the world of tennis. Abrams' life in tennis in the community and his career with the USTA spans several operational areas making Abrams the best person to serve as its Chief Diversity and Inclusion Officer.
Thanks to D.A. Abrams, USTA, Chief Diversity and Inclusion Officer for allowing Glenn Gilliam to conduct a wide-ranging interview.