RHOA Porsha Williams' Relationship in Disarray; Hollywood Needs Help with Black Hair [Episode 144]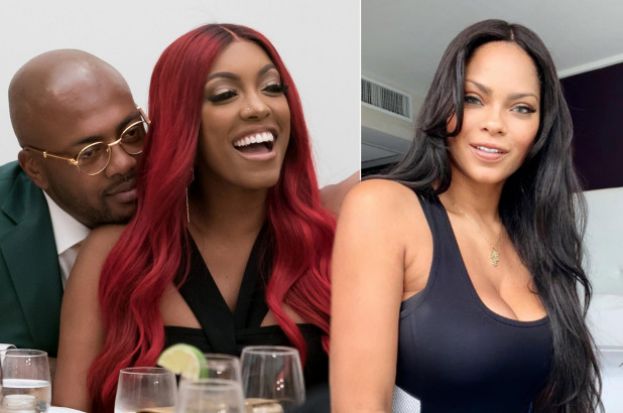 Photo Credits: Porsha Williams and Dennis McKinley (Bravo) and Sincerely Ward (Instagram)
Porsha Williams of Real Housewives of Atlanta and Dennis McKinley (left) and WAGS Atlanta star, Sincerely Ward (right).
VIDEO DISCUSSION: The growing number of conservative abortion laws and why are men so quiet? The Beyhive stings Ms. Dionne Warwick
In Episode 144 of What's The 411 recorded on June 4, 2019, the hosts, award-winning journalist, Kizzy Cox, and comedian, Onika McLean, are talking about:
Abortion Rights and the Lack of Male participation
Where are the men who believe that women have the right to full agency over their bodies? Why are they so quiet?
Hollywood Needs Help in the Black Hair Department
The lack of black hairstylists in the entertainment industry has been an ongoing struggle for some of Hollywood's biggest names gracing the big and small screen. Is it time for Hollywood's non-Black hairstylists to learn how to style Black Hair? Viola Davis thinks so.
Dionne Warwick got entangled in the web of the Beyhive
Iconic songstress, Dionne Warwick, ran afoul of Beyonce's most fervent fans, the Beyhive, because of a response she gave during an interview with Essence. The Beyhive thought Ms. Warwick was throwing shade at Beyonce when she stated the following when answering if Beyonce is an icon:
'It's wonderful to see how she's been able to create what and who she wanted to be and who she is.'
'Now, sustaining and becoming an icon that Gladys Knight, or Patti LaBelle, Johnny Mathis, Frank Sinatra, or Sammy Davis Jr. is? I doubt that, I really do. I love her to death, and I can really appreciate her talent. But that status I just mentioned, those four names? [She has] a long road [ahead].'
Is it all a misunderstanding on the part of the Beyhive or, did Ms. Warwick really throw shade at Beyonce?
The Mother of XXXTentacion's Child Wins Right to DNA Sample
A judge ruled that XXXTentacion's girlfriend, Jenesis Sanchez, can obtain a sample of the deceased rapper's DNA. X's mother, Cleopatra Bernard, was a proud grandmother at the time of X's baby's birth. However, later she attempted to block Ms. Sanchez from receiving the DNA sample. In the end, the judge sided with Ms. Sanchez and granted the petition.
Reports state Ms. Bernard isn't too happy. Can you write this script?
Children's Sharing Etiquette
Most of us grew up with lessons from our parents and teachers about sharing our toys, books, and other childhood possessions with our friends and classmates. However, some psychologists are turning that life lesson upside down, saying that it's okay for children to not share their possessions.
Is this generation of psychologists going off the rails, or, were we brought up the wrong way?
Porsha, Porsha, Porsha
The Internet is all abuzz over what appears to be a breakup between Real Housewives of Atlanta star, Porsha Williams, and her new beau, Dennis McKinley over what appears to be his cheating with another reality TV star, Sincerely Ward.
It's one thing to have a breakup in private, but a public breakup with someone who is the father of your newborn child, that's rough. However, Porsha's fans really got amped and seemingly have her back after learning that All About The Tea and Tasha K of Unwine with Tasha K seem to have receipts to prove that Dennis was cheating on Porsha while using her to climb the social ladder.
Stay tuned, after all, it's reality TV.