What's The 411 Episode 63: Rihanna's NY Fashion Week Party Brings Out Everyone Looking for a Good Party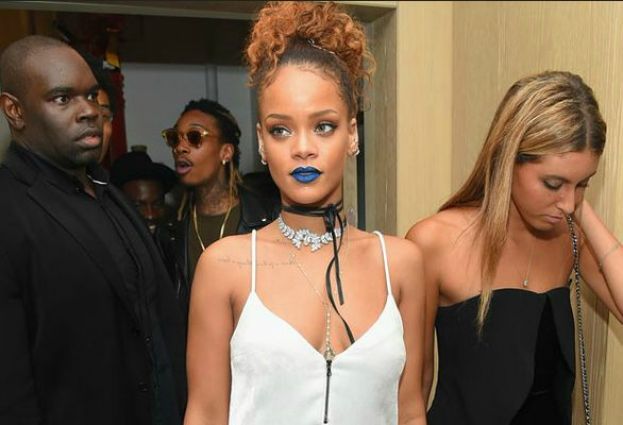 Photo Credit: Michael Loccisano/Getty Images for EDITION
Plus French Montana losing no sleep over Khloe Kardashian; London street artist, Pegasus, brings Kanye West's 2020 Bid for US President to the UK; Brooklyn's first ever

soca

flash mob; and more!

In What's The 411 Episode 63, the panel of host Kizzy Cox and correspondents Courtney Rashon and Onika McLean are talking about ballerina Misty Copeland; Bravo's The Single Project wins an EMMY; Black-owned Restaurant Month; Tracee Ellis Ross and Jessica Simpson hanging out together; tennis star James Blake assaulted by NY police officer; actress Viola Davis joins actor Denzel Washington on August Wilson journey; Chrissy Teigen's ''No Hot Nannies'' Comment Causes an Uproar; K. Milele's New York Fashion Week show; and so much more!
QUICK TAKES
KIZZY: Ballerina Misty Copeland reveals she is engaged to her longtime boyfriend of 10 years, corporate attorney, Olu Evans, who is also a cousin to actor, Taye Diggs. Describing the turn of events in her life, Misty told Essence magazine, 'I can't believe my life right now!'
ONIKA: Of course, I am happy to report, Bravo's, The Singles Project, which followed six New York City singles on their quest to find romance, has officially won an Emmy Award for Outstanding Creative Achievement in Interactive Media - Multiplatform Storytelling.
COURTNEY: Pop star Rihanna is always on the scene during New York Fashion Week and this year was no different. Rihanna held her New York Fashion Week Party at the New York EDITION hotel, which was attended by Chris Rock, Timbaland, Pharrell, Wiz Khalifa and others.
Onika: Black-owned restaurants Month kicked off in Brooklyn and Manhattan on September 9. Thirteen restaurants are participating in the event started by blogger Genese Jamilah. She created the event once seeing her I Don't Do Clubs blog post listing 100 black-owned restaurants had become very popular.
KIZZY: London street artist, Pegasus, brings Kanye West's 2020 Bid for US President to the UK with street art featuring the lovely Kim Kardashian in her "break the Internet" photo.
Courtney: It looks like rapper French Montana is not brooding over Khloe Kardashian's new romance with NBA basketball player, James Harden. It's reported that Rich Kids' Dorothy Wang will be joining French Montana on tour.
KIZZY: It is kind of strange putting the names Jessica Simpson and Tracee Ellis Ross in the same sentence, let alone in the same location. Yet the two are joined by the holy matrimony of their siblings Ashlee Simpson and Evan Ross and Jessica and Tracee were on hand for a big family celebration, Evan's birthday bash.
WHAT'S POPPIN'
Former Tennis Star Assaulted by NY Police Officer
COURTNEY: You have to have been under a rock to miss this item; retired tennis star James Blake experienced a violent assault by the NYPD outside the Hyatt Regency Hotel near Grand Central Station. Blake stated that he was waiting outside his hotel, and five white undercover officers allegedly threw him down to the ground, causing Blake to suffer minor injuries. The police officers never apologized after the incident. Mayor de Blasio stated there will be a full investigation regarding the attack by the officers.
Actress Viola Davis Joins Actor Denzel Washington on August Wilson Journey
ONIKA: Actress Viola Davis is going to work with Academy Award-winning actor Denzel Washington in a film adaptation of August Wilson's play "Fences." Denzel Washington is directing and Viola will be starring in the film, according to The New York Times. Both Denzel Washington and Viola Davis starred in the Broadway version of Fences in 2010 and Viola also won a Tony award for her role in the play.
Chrissy Teigen's ''No Hot Nannies'' Comment Causes an Uproar
KIZZY: The Twittersphere has exploded over this comment Chrissy Teigen made during an interview at Lauren Conrad's New York Fashion Week show:
"No hot nannies, drivers, or maids," she quipped last week. "It's an ongoing joke in my house. I do want to have kids one day, so it's something that I have to think about. But the rule is no hot nannies. I trust John, but you never know with these men."
Some responses were: "Chrissy Teigen Just Said Something Lame About Hiring Women"
Of course, Chrissy is wondering why does she have to defend a running joke?
ONIKA: For years, New York Fashion Week has been the who's who in the hip-hop and all the other fabulous industries. I had the pleasure of attending the K Milele line- please Google her- she has been the brains and beauty behind all the fabulous urban brands. She is currently working on Nikki Minaj's line and working on her own fashion line. It was a fabulous event and what was so special, she had all of her stylist friends styled one swimsuit several different ways.
FAB411
New York Fashion Week Hair and Makeup Trends
COURTNEY: During NY Fashion Week, the runways were heating up with fresh and sexy hair and makeup trends for the spring looks. The make-up trends included barely-there makeup, bold lines made with eye shadows and eyeliner and lips stained with natural flesh-like rosy tones and face embellishment, such as piercing and decals were also seen on the runway. Thicker, more natural looking eyebrows are also popular this season.
For hair, twists and knots were a huge trend on the runway and the wet sleek hair look either pinned up or in a pompadour style was also a major trend for fashion week.
UNDER THE RADAR
The City of Baltimore Settles with Family of Freddie Gray
KIZZY: Baltimore has reached a settlement with the family of Freddie Gray for $6.4 million. Freddie Gray was the young black man who was fatally injured while in police custody, his death incited protests and riots back in the spring. The criminal trials of the six police officers will continue however and Baltimore's mayor, Stephanie Rawlings-Blake is saying that the settlement isn't an admission of liability just a way to avoid a long drawn-out litigation in a civil case. The settlement is more than the payout for 120 lawsuits against the Baltimore Police Department combined since 2011, reports the Baltimore Sun. The police union president called the deal "obscene", but what I think is obscene is that a young man who was in police custody was handled so roughly his spine was critically injured and he was denied medical attention while being transported to jail. What do you think about the settlement?
LeBron James Partners with Project Learn to create I Promise, Too
COURTNEY: Recently we reported that LeBron James' Foundation, "I Promise," has pledged 1100 college scholarships for students to attend The University of Akron in Ohio. According to the Huffington Post, LeBron has expanded his scholarship program by partnering with the adult educational organization, Project Learn of Summit County. The new initiative is called "I Promise Too," which will help parents earn their GED's and prepare them to enter the workforce.
CARIBBEAN COOK-UP!
Oba Stephens Bring First Soca Flash Mob to Brooklyn
KIZZY: BROOKLYN recently made history with its first ever soca flash mob! While dancing to Angela Hunte and Machel Montano's song Party Done, soca lovers locked down the plaza in front of the Barclay's Center with some wicked waistline moves, choreographed by dance instructor Kiara Ross. The event was organized by Oba Stephens, a Trinidadian but was an opportunity for people from all over the West Indies to show their national pride and unite for Caribbean pride. Hundreds of people participated and some put the estimates anywhere from 900 to nearly 2000 people. Oba plans to do another soca flash mob in Houston, Texas next month.
Brooklyn's Pre-West Indian Day Parade Festivities Brings Out Good and Bad
KIZZY: Brooklyn was also the site of the annual West Indian Labor Day parade which routinely draws about 2 million people to Crown Heights each year. It's a wonderful display of Caribbean culture with parties and performances by soca artists and steel pan drummers leading up to the parade and beautiful mas costumes and trucks playing high-energy soca music the day of, participants can also sample all types of Caribbean cuisine from fish cakes to jerk chicken from the many vendors who line the parade route along Eastern Parkway.
Unfortunately, the huge crowds also occasionally draw the wrong crowd. And this year at the Jouvert celebration, which takes place in the early morning before the parade, thugs brought violence to the festivities. One person was stabbed to death and 4 others were injured including Carey Gabay, a lawyer for Governor Cuomo's office. Mr. Gabay was shot in the head by a stray bullet around 3am Monday morning and, as of this taping, is in a coma still fighting for his life. Now in the wake of this violence some officials are calling for changes to Jouvert, including marking off the Jouvert route and checking all those who pass through it much like they do during New Year's Eve in Times Square. I was talking about this issue on the Brian Lehrer show and thought that wouldn't be a good idea because there's too many people and more importantly Jouvert takes place in a residential area, who knows who residing in the surrounding apartments might choose to settle a beef at that time--completely getting around those security checks. What do you think we can do to stop the violence?
ON THE CARPET:
George Zimmerman Gets Called on the Carpet, yet again
KIZZY: I don't know how many times we can drag this man on the carpet but here we go or rather here he goes again: George Zimmerman! Zimmerman has been selling paintings of the confederate flag in collaboration with a Florida gun store owner who recently declared his business a Muslim-free zone. Zimmerman tweeted his reason for painting the flags,
"I painted the confederate flag backed by the American flag because I believe that anything can stand with the American flag behind it. "He added: "My confederate flag painting also represents the hypocrisy of political correctness that is plaguing this nation."
A post on the store's website also said Mr. Zimmerman painted it "in honor" of Andy Hallinan, the gun store owner "for being a true patriot and leading the country into a better, safer America." As though being anti-Muslim is a sign of true patriotism! Zimmerman is selling his paintings for $50 a-piece to help with his and Hallinan's legal fees (who's being sued by the Council for American-Islamic relations). It's unclear how many he's sold so far but a painting of the American flag he did sold on eBay for more than $100,000! There is so much wrong with this story: the racism, the profiting off of racism, George Zimmerman is just a mess--he's been in legal issue after legal issue since he killed Trayvon Martin and I really don't understand how he's not in jail by now. For this and everything else, George Zimmerman I'm calling you on the carpet.
REALITY TV RECAP
Caitlyn Jenner Expresses Feelings about "I am Cait" Halloween Costumes
COURTNEY: In a recent episode of I am Cait, Caitlyn Jenner expressed her feelings toward the controversial Halloween costumes inspired by her Vanity Fair cover to Matt Lauer. Jenner states that "she" doesn't care and is not offended. The costumes are already appearing online.
Threesome Talk on Love and Hip
ONIKA: In Love and Hip Hop news. Is it cheating when you agree to a threesome? Ladies, I'm telling you don't open Pandora's Box and I'm not talking about the bracelet company! When you agree to have another woman in your bed, there is no guarantee she will want to leave! In some cases, she could be the Puerto Rican Princess and marry your man!
PIPELINE
KIZZY: Actress Vivica A. Fox will play the big sister to Taraji P. Henson's character, Cookie Lyon, in EMPIRE.
ONIKA: The 50 Cent produced drama series, POWER, is shooting its new season all over Brooklyn!