Tren'Ness Woods-Black NV Mover and Shaker Carrying on the Sylvia Woods Tradition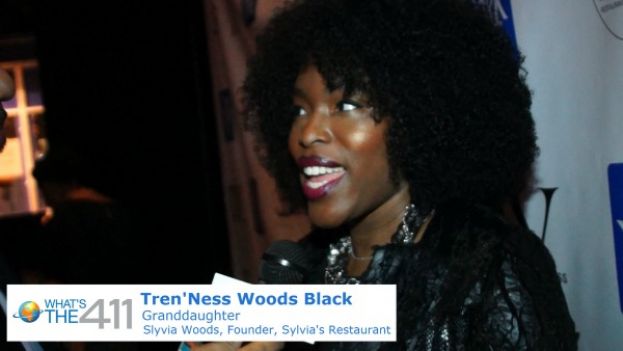 Tren 'Ness Woods Black talking with What's The 411TV host, Glenn Gilliam
Check out video interview with Tren'ness Woods-Black
NV Magazine has established its 15-year history as a "new vision" of business publication for urban professionals around the country. Whether scaling the ladder within corporate America or creating a successful venture from scratch, NV has chosen to not only acknowledge but honor, many of these ground-breakers with its annual Movers & Shakers Awards.
For the past five years, Founder, Kyle Donovan and Publisher, Christopher Chaney and their team have solicited recommendations for and researched their selections to identify honorees from the well-established, even famous, to the less celebrated but ascending innovators, executives and business "hustlers" within the multicultural community. This isn't for the sake of taking nice pictures and having a cocktail, NV's mission is to empower communities of color through the recognition of these trendsetters and inspire collective collaboration to generate wealth and long-term economic stability for the black and Latino market.
Tren'ness Woods-Black, granddaughter of soul food restaurant icon Sylvia Woods was a recipient of the NV Movers and Shakers Award.
How excited are you for this recognition?
"I'm really excited," Tren'ness said. "First of all, NV Magazine, I've been a fan and a supporter from day one."
Your grandmother was a legend, so loved and dearly missed, thank you for continuing her work, what did she impart to you?
"Everything, she was a true legacy builder in every sense of the word. She was all about the community, she often would say, 'I am Harlem', she loved her family and that's one of the reasons why our business is still going on, three generations, hard at it, making things happen."
In terms of opportunities, things you're looking forward to, please share with our fans...
"Exciting stuff," Tren'ness responded. "Just last year we acquired the last bit of real estate that was available on our avenue, so our avenue is actually going to be renamed Sylvia Woods Way. We're building a brand new, beautiful, sexy restaurant that's going to last us another 51 and a half years, we are educating our youth with our scholarship foundation and we sent over 85 kids to school in just 12 years, so we're looking to double those numbers. So that's what we're all about, our food product company is doing amazingly well, so we're looking to grow that, so a lot is to come from the Sylvia Woods brand."
Are you still looking at expanding outside of NY?
"YES, we actually have some things cooking on the stove right now, so you'll have to stay tuned for more, but you'll definitely be seeing a lot more Sylvia's in hot states near you."
To see our videos as soon as they are posted, subscribe to our YouTube channels: WhatsThe411TV and 411SportsTV