Maya Angelou Tops What's The 411TV's List of 25 Most Interesting People of 2013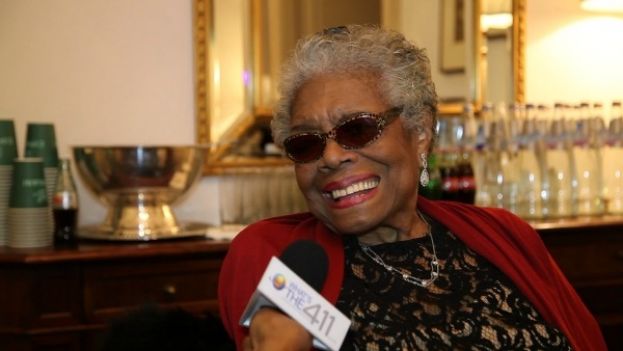 Photo Credit: Alexis Williams/What's The 411 Networks
Dr. Maya Angelou giving an exclusive interview to What's the 411 correspondent, Kizzy Cox
Maya Angelou Tops What's The 411TV's List of 25 Most Interesting People of 2013
List contains celebrities, authors, protestors, Motown royalty, a billionaire, entrepreneurs, and more
BROOKLYN, NY; December 30, 2013 - What's The 411, a weekly entertainment and lifestyle television show from the Brooklyn-based independent television producers, What's The 411TV, released today its list of 25 Most Interesting People of 2013.
What's The 411's 25 Most Interesting People of 2013 was developed from interviews conducted by What's The 411 reporters between January 1, 2013 through December 13, 2013. The list consists of people from a variety of industries from celebrated personalities to artists and entrepreneurs seeking to break through to ordinary people doing extraordinary things to New Yorkers rallying for justice for Trayvon Martin in the aftermath of George Zimmerman's acquittal. Many people on the list are local to the New York City metro area, while others are global figures.
"Throughout the years, What's The 411 reporters have interviewed so many amazing and interesting people," said Ruth J. Morrison, CEO and Founder, What's The 411 Networks. "Our list is a way to congratulate and celebrate accomplishments, and similar to last year, it was not an easy task for our reporters and producers to narrow down the list to 25 and since we couldn't, we also have a list of eight honorable mentions."
Below is a list of What's The 411TV's 25 Most Interesting People of 2013 with links to their respective interviews. They fall into the categories of sports; film; theater; music; television; fashion and beauty; small business; and literature:
1. Maya Angelou, author, poet, and recipient of the National Book Foundation's Literarian Award
2. Berry Gordy; Legendary Founder of Motown, entrepreneur, and film and theatre producer
3. Mahen Bonetti; Founder, New York African Film Festival, celebrating 20 years of bringing renowned African films and filmmakers to international audiences
4. Bishop T.D. Jakes & Mrs. Serita Jakes; Chief Pastor, The Potter's House, film producers, authors, and more
5. Mikhail Prokhorov, billionaire, and Brooklyn Nets Principal Owner
6. Willis Reed, Legendary NBA and New York Knicks basketball player
7. Dr. Makaziwe Mandela and Tukwini Mandela, daughter and granddaughter of Nelson Mandela, the late former President of South Africa
8. The Tankards: Ben and Jewel Tankard; music producer, Godfather of GospelJazz, and bestselling GospelJazz instrumentalist in the world; Mrs. Tankard is a financial advisor and empowerment coach; and they are both non-salary senior pastors at Destiny Center Church in Murfreesboro, TN; and reality TV stars of Bravo's The Tankards: Thicker Than Water
9. Carolyn A. Butts; Founder and Publisher, African Voices; and producer of African Voices' 16th Annual Reel Sisters of the Diaspora Film Festival
10. Duane Jackson, Times Square Hero, entrepreneur, philanthropist, and author of MAY FIRST
11. Martha Reeves; singer, former elected official, and lead singer of the Motown group, Martha and the Vandellas, and still performing since the 1960s
12. Sonya Lamonakis; balancing being a New York City school teacher and a professional boxer
13. Allison J. Davis, Co-Founder, National Association of Black Journalists
14. Producers and Cast of Classical Theatre of Harlem's A Midsummer Night's Dream
15. James McBride; Author and winner of the National Book Award for Fiction
16. Nelson Frank; three-time Grammy-nominated artist (songwriting and producing) and he just added recording artist to his list of accomplishments
17. Justin Tuck; New York Giants defensive end and Founder, Tuck's R.U.S.H. for Literacy
18. Jeremy Lin; former guard with New York Knicks (NBA) whose unsuspecting basketball skills lit a spark and a winning streak that New York basketball fans called "Linsanity;" he is now with the Houston Rockets
19. Mike Tyson; former heavyweight boxing champion and Executive Producer, Mike Tyson: Undisputed Truth; life knocked him down a few times and he's still standing
20. Ramfis Myrthil, Producer; and Adam Lawrence, Producer and Director of the film, Love and the Small Print
21. New Yorkers Rallying for Justice for Trayvon Martin after the Acquittal of George Zimmerman
22. Michael Brooks and Rotimi Akinnouye; fearless and smart marketers, and owners of Bed-Vyne Wines, Bedford-Stuyvesant, Brooklyn
23. Todd Jones; charismatic owner of Sweet Dreams Mini Donuts, Bedford-Stuyvesant, Brooklyn
24. Cynthia Bailey-Thomas and Peter Thomas; reality TV stars, Real Housewives of Atlanta; and authors of the book, Carry-on Baggage: Our Non-Stop Flight
25. Dashaun Wesley; Dancer and Choreographer and taking vogue to new heights
HONORABLE MENTION
• Lynn Whitfield, actress, producer, and an ambassador to a Nigerian film festival
• Vivica A. Fox, actress, producer, and a supporter of literacy projects
• Adrian Matejka, Poet and 2013 National Book Award Finalist for Poetry
• AJ Calloway; Former Host, BET's 106th and Park, and lover of real old school hip-hop
• Red Hook Residents Demonstrating for Hurricane Sandy Restoration
• Jared Fogle, Subway restaurant spokesperson and supporter of weight-loss and literacy initiatives
• Big Daddy Kane; pioneering Hip-Hop MC with longevity
• Grandmaster Caz, Hip-Hop Pioneer
About What's The 411TV
Based in Brooklyn, New York, What's The 411TV is a division of What's The 411 Networks, a media/news, marketing, and events company. What's The 411TV connects sophisticated multi-cultural audiences with its content through its distribution platforms of television, online, mobile, and social media.
What's The 411TV's celebrity portfolio consists of interviews with Magic Johnson, Beyonce, Denzel Washington, Meryl Streep, Morgan Freeman, Danny Glover, Harrison Ford, Samuel L. Jackson, Angela Bassett, Angelina Jolie, Jennifer Hudson, and many, many more.