Patti LaBelle Backstage at the Soul Train Awards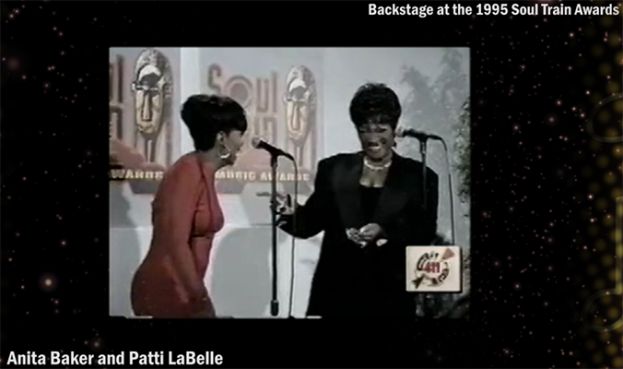 Award-winning R&B singer, Patti LaBelle (left), joking with fellow award-winning R&B singer Anita Baker backstage at the 1995 Soul Train Awards
Patti LaBelle and Anita Baker talking with the media backstage at the Soul Train Awards are hilarious
What's The 411's west coast correspondent Wanda Formey gives us a backstage pass to a hectic media room at the Soul Train Awards.
In this video, the focus is on Patti LaBelle; she talks about a LaBelle reunion for a song on the To Wong Foo, Thanks for Everything! Julie Newmar movie soundtrack.
Ms. Patti also gives success tips in a manner in which only she can.
The 1995 Soul Train Awards show, held on March 13, 1995, was hosted by Anita Baker, Babyface, and Patti LaBelle.
Anita Baker won two Soul Train awards at the 1995 Soul Train Awards.
Enjoy!
Last modified onWednesday, 03 January 2018 05:13