Claudia Rankine: 2014 National Book Award Finalist Uses Poetry to Combat Racism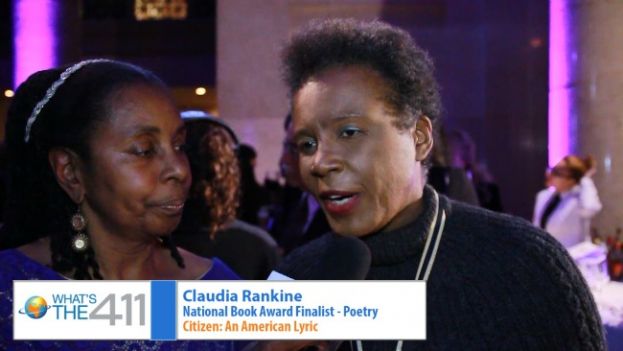 Photo Credit: Kenneth Dixon/What's The 411 Networks
Claudia Rankine, National Book Awards Finalist for Poetry, is talking with What's the 411TV Book Editor, Luvon Roberson about her nominated book, CITIZEN: AN AMERICAN LYRIC
Born in Kingston, Jamaica, Claudia Rankine is a poet, playwright, university professor, and a 2014 National Book Award Finalist for Poetry for her book, CITIZEN: AN AMERICAN LYRIC.
As What's The 411TV's book editor, I spoke with Claudia Rankine at the 65th Annual National Book Awards on November 19, 2014, at Cipriani Wall Street. CITIZEN: AN AMERICAN LYRIC, Ms. Rankine's nominated book, uses the power of poetry, prose, and images to shed light on the insidious behavior of micro-aggression.
Watch video interview with National Book Award Finalist for Poetry, Claudia Rankine
Claudia Rankine is the Henry G. Lee Professor of English at Pomona College and the author of four collections of poetry, including Don't Let Me Be Lonely: An American Lyric, PLOT, The End of the Alphabet, and Nothing in Nature is Private, which received the Cleveland State Poetry Prize. She is a winner of the Jackson Poetry Prize and a recipient of fellowships from the Academy of American Poetry, the National Endowments for the Arts, and the Lannan Foundation. In 2006, she served as a Judge for the National Book Award for Poetry.
To hear Claudia Rankine in her own words and to read an excerpt of CITIZEN: AN AMERICAN LYRIC, click here.
For more information about Claudia Rankine, visit: www.claudiarankine.com