Maya Angelou; Legendary Poet, Author, and Civil Rights Activist Dies at Age 86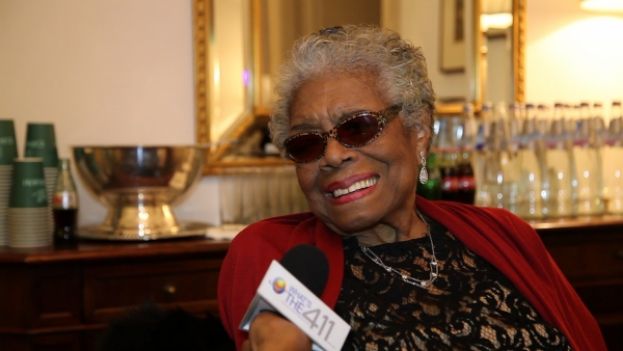 Photo Credit: Alexis Williams/What's The 411 Networks
What's The 411 correspondent Kizzy Cox interviewing Dr. Maya Angelou at the National Book Awards in November 2013. Dr. Angelou passed away today at age 86
What's The 411TV is deeply saddened by the passing of DR. MAYA ANGELOU, a legendary poet, author, and civil rights activist. She died today at 86 years old.
Dr. Angelou was the 2013 winner of the National Book Foundation's Literarian Award. She accepted the award on November 20, 2013, at the National Book Awards in New York City.
Nobel Laureate, and her longtime friend, TONI MORRISON presented Dr. Angelou with the award at the National Book Awards ceremony. Ms. Morrison spoke warmly of her friendship with Dr. Angelou and praised her talent and kindness.
The phenomenal woman herself was all smiles when she took the stage to a standing ovation from the crowd. What's The 411TV correspondent Kizzy Cox had the distinct privilege of interviewing Dr. Angelou at the National Book Awards, you can view Dr. Angelou's poetic interview here.
For nearly fifty years, Dr. Maya Angelou has moved us with her lyrical poetry and dynamic prose. Works like PHENOMENAL WOMAN and I KNOW WHY THE CAGED BIRD SINGS have become literary classics. Her poem, On The Pulse of Morning, written for President BILL CLINTON'S 1993 inauguration, garnered her the first of three Grammys (even more impressive because she was the first African-American and woman to recite an inaugural poem). Dr. Angelou also received a NAACP Image Award, a Presidential Medal of Freedom, and she topped What's The 411TV's List of 25 MOST INTERESTING PEOPLE OF 2013, among other awards.
As Charlayne Haynes, producer of the upcoming documentary, DIRT AND DEEDS IN MISSISSIPPI, so eloquently stated: "This bold poet lived fully. So long, Maya!"
So long, indeed, until we meet again.