Chris Rock Checking Out the Brooklyn Nets and LeBron James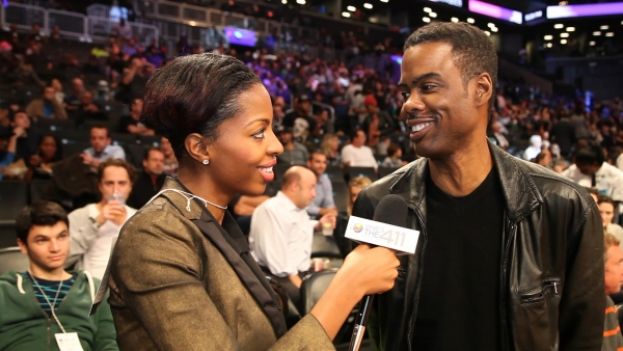 Photo Credit: Alexis Williams/What's The 411 Networks
What's The 411Sports correspondent Crystal Lynn talking with actor/comedian Chris Rock during halftime at a 2013 Brooklyn Nets vs. Miami Heat game
VIDEO: Talking with Chris Rock at the Barclays Center; he happened to attend a Brooklyn Nets game with his daughter because she loves LeBron James
Actor/comedian, Chris Rock, took a moment during half-time at the Brooklyn Nets – Miami Heat game on Friday to talk with What's The 411SPORTS correspondent Crystal Lynn.
During NBA basketball season, Chris Rock is usually someplace else in New York City, but he brought his daughter to the Nets game because she loves LeBron James. It was the comedian's first time in the Barclays Center and he likes it.
"I'm from Brooklyn," Rock said in a matter of fact fashion.
With the chatter of a Brooklyn Nets – Miami Heat rivalry brewing, Rock chimed in saying he thinks it's real.
"Oh, it's for real, he said. "A lot of it came over from Boston really with Garnett and then Pierce, but I think it's real. They're going to play hard all year."
"I wouldn't be shocked if a brawl happens before the year is over," laughed Rock in his comedic style.
Rock also offered his opinion on the Brooklyn Nets prospects for reaching the playoffs.
"I think they can go pretty far, it's going to be hard to beat Miami, it's going to be hard, Jason Terry's old," Rock said as if he was trying out new comedy material.
What's in Chris Rock's future?
"I'm getting ready to go on tour, I'm getting my stand up together, I'll be playing this building in the fall," he added.
Last modified onSunday, 10 December 2017 05:45