Patti Cake$ is a tasty dessert [MOVIE REVIEW]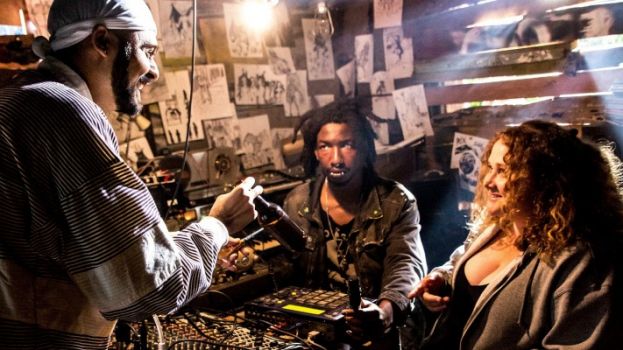 Photo courtesy of Fox Searchlight Pictures
Danielle McDonald the star of Patti Cake$ with Siddharth Dhananjay (left) and Mamoudou Athie (center)
It's not only hard out here for a pimp, it's also tough for a young struggling would-be rapper named Patti (Danielle MacDonald). She's the primary breadwinner in her household which includes her grandmother whose respiratory system is ravaged by decades of smoking and her mother who also has dreams of singing stardom. Between working a series of low-end jobs, Patti does everything she can to advance her career. And she's not alone in her visions of fame; there's Hareesh (Siddharth Dhananjay), an East Indian pharmacy tech who's just as fascinated with rap as she is.
So you have a chubby blonde girl and her Indian sidekick in hot pursuit of becoming part of rap royalty. They can write and rhyme but their team becomes complete when they come across a black kid, Anti-Christ (Mamoudou Athie) who has a functional recording studio in the remote shack where he lives. They create a demo tape which gives them a product to promote.
Patti Cake$ is a production that has a lot to overcome to make it work. And it does overcome. Patti Cake$ is a See it!
It starts with the film's writer/director, Geremy Jasper. Patti's lyrics had to be solid, credible rhymes - with rhythm. They are. There's a saying: write what you know. Geremy is a video music director. He knows and understands this genre. Next, Danielle MacDonald, a native of Australia, had to master the craft. She does. Her rapping is smooth, natural, and authentic. Her ability and familiarity with rap reflect the universal appeal of black America's music. Rebel Wilson of the Pitch Perfect film series, who is also Australian, said her favorite song growing up was Jump! by Kris Kross, which reached No. 1 in the land down under. And you should "Believe dat".
The film features the necessary debate as to Patti's right to rap. While working as a server at a private party hosted by a rap legend, she bursts into a performance as he sits alone waiting for his guests to arrive. He is thoroughly unimpressed and accuses her of abducting a culture that is not hers. She also gets fired.
Another part of Patti Cake$'s successful recipe is the quirky but perfect performances of costars, Siddharth Dhananjay and Mamoudou Athie. However, Athie's character keeps very expensive recording equipment in his shack where it could easily be stolen. Coupled with the fact that much equipment requires at least a 440 electrical system, unlikely wiring for that hovel, makes that part of the storyline dubious at best.
This film gets an "A" for cast diversity. The cast reflects both the working class white community Patti lives in and the rap world which has a primarily black following with a substantial number of fans of other races.
Ultimately, Patti Cake$ works because it combines an interesting story, strong acting and absolutely, necessary credibility from a white girl effectively performing what is considered a black art form.
Patti Cake$ is 108 minutes and rated R for strong language throughout, crude sexual references, some drug use and a brief nude image. And it gets our highest rating, See It!