Don't Join The Book Club [MOVIE REVIEW]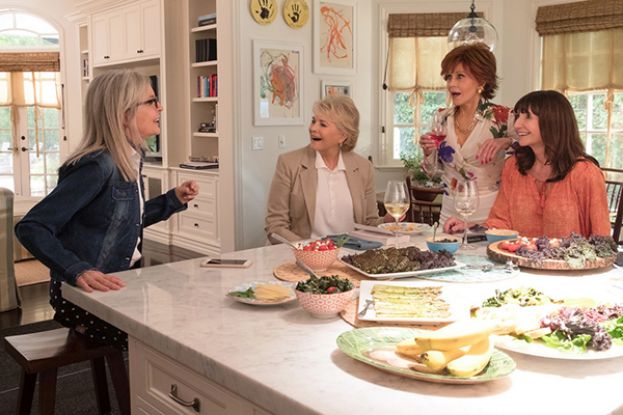 Photo Courtesy of Paramount Pictures
Cast of Book Club (l to r) Diane Keaton, Candice Bergen, Jane Fonda, and Mary Steenburgen.
They've been friends since college, and get together once a month to discuss the book of the month. Diane (Diane Keaton) is recently widowed after 40 years of marriage. Vivian (Jane Fonda) runs a five-star hotel and only gets involved with men she could never fall in love with. Sharon (Candice Bergen) is still recovering from her divorce of almost two decades. Carol's (Mary Steenburgen) marriage slumps after 35 years. The book of the month, the salacious 50 Shades of Grey has the friends reexamining their own situations.
The Book Club is simply not worth the time. It's Dead on Arrival. First, the characters are not interesting. Even for a comedy, they simply lack the depth to make this film worthwhile. It's not the performers; it's the weak script. Further, while the four women are all supposed to be the approximately same age, having attended college at the same time, it's obvious that Mary Steenburgen is younger than her costars and is in fact 15 years younger than Jane Fonda.
There's also not a credible subplot. Diane's love interest Mitchell (Andy Garcia) is obviously younger than her (10 years in real life). He's a pilot whose invention reducing wind drag on airplanes has made him wealthy but for some unexplained reason, he still works as a commercial pilot. Thus, this rich guy who's in a profession where he meets plenty of women decides to pursue a much older, very ordinary widow. Is this possible? Of course. Is this likely? Of course NOT!
Speaking of Garcia, he is the only one keeping this film from getting a D- minus in cast diversity. This Hispanic (Cuban) actor has a starring role in what would otherwise be one of the least diverse films I have seen in years.
The Book Club is rated PG-13 (for sex-related material throughout and for language) and is 104 minutes.
Ultimately, it is sad that such talented actors are bound together in this losing production. It's Dead on Arrival.
Last modified onThursday, 14 June 2018 03:04