Luxe Lip Liners from Pretty Girl Gang Cosmetics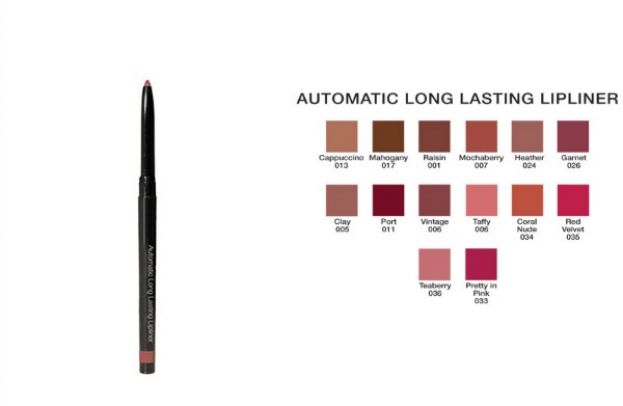 Pretty Girl Gang Auto Lip Liner and Colors
#PRETTYGIRLGANGCOSMETICS™ Luxe Liners provide a smooth and easy precision lining. The creamy, long-wearing, waterproof formula is infused with antioxidants Vitamin C and Vitamin E, which nourishes and protects the lips. No sharpening required.
Ingredients:
Vitamin C is added for antioxidant protection. Vitamin E conditions dry cracked lip edges.
Mineral oil-free and, preservative-free.
Retail Price $8.00 / Wholesale price $5.50
Colors:
Clay
Cappuccino
Mahogany
Mochaberry Hat
Red Velvet
Tea Berry Vintage

Celebrity makeup artist Courtney Rashon is synonymous with all things creative. Known for her ability to transform the ordinary into something breathtaking, her abilities always exceed the expectations. Not only does she possess the skills needed for everyday glamour makeup, she also is a special effects artist as well.
Her company, Courtney Rashon Industries, consists of a full-service beauty entity that provides glamour/beauty and visual effects makeup application, men's grooming, imaging and mentoring for aspiring makeup artists.
Since the birth of her company, she has produced makeup for artists such as Timbaland, Sebastian and Petey Pablo, reality television personalities, Natalie Nunn, of the Bad Girls Club, Exotic from For the Love of Ray J and director Paul Coy Allen of R&B Divas, just to name a few. Also, she has been the key makeup artist for commercials, short films and the social movement documentary From Fatherless to Fatherhood which aired on OWN and Aspire networks. She has also given demonstrations at Robert Fiance Beauty Schools on specialty makeup subjects including bridal makeup and television and film makeup applications.
Latest from Courtney Rashon @CourtneyRashon