Black Enterprise Executive Makes Enterprising Move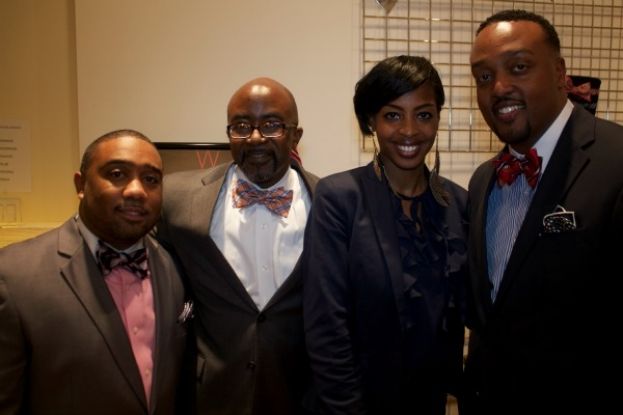 Photo Credit: Alexis Williams/What's The 411 Networks
Crystal Lynn Interviews Alfred Edmond Jr. (2nd from left) and the Founders of Windsor Neckwear
Watch Video: Alfred Edmond Jr., Senior Vice President, and Editor-at-Large, Black Enterprise magazine partners Windsor Neckwear for bow tie collection
What's The 411 correspondent Crystal Henderson interviewed Alfred Edmond Jr., Senior Vice President, and Editor-at-Large, Black Enterprise magazine, along with his partners Mace Neal III and Michael McPherson, Jr. of Windsor Neckwear. The interview took place at the launch of Mr. Edmond's bow tie collection aptly named the Alfred Edmond Jr. Bow Tie Collection.
The Windsor Neckwear team found Alfred Edmond Jr. when they were searching for bow ties on Twitter and Alfred's tweet was one of the first to come up. The relationship between Windsor Neckwear and Alfred Edmond Jr. started when the Windsor Neckwear team asked him to check out their website and give them professional feedback. Alfred gave them feedback and later he placed a couple of orders. The business transaction developed into admiration, friendship, and now a business relationship.
Like many companies, Windsor Neckwear grew out of necessity. Approximately four years ago, when Mace Neal III and Michael McPherson Jr. could not find the types of ties they were looking for in Nashville, Tennessee, they decided to create their own. The first year and a half, the duo created the ties themselves. They have since found a company that could manufacture the ties for them based primarily on Michael McPherson Jr.'s designs.
The relationship between Windsor Neckwear and Alfred Edmond Jr. is like a match made in heaven. A lover of men's accessories in general, Alfred has been wearing hand-tied bow ties since he was 26 years-old. Additionally, in the world of work, Alfred sees bow ties as an advantage. Bow ties allow him to fit within a corporate environment, while at the same time, allowing him to stand out.
Alfred Edmond Jr. has a very interesting take on style vs. fashion. He believes that "fashion is when you are looking for the designer to validate you, but if you have style, what you wear validates the designer."
A true leader, Alfred Edmond Jr. is clear that he dictates what's best for him and let others follow his lead, as opposed to looking around to see what others are doing and then deciding what to do.
The goal of Windsor Neckwear and the Alfred Edmond Jr. Bow Tie Collection is to capture men wherever they are regardless of age. It's about capturing the uniqueness of the man.
As Mace Neal III puts it, "Windsor Neckwear is definitely out of the ordinary, but in the ordinary," meaning it's for all men with style!
Michael McPherson Jr. adds, "it is dynamic, it expands all generations, it expands all styles."
The evidence is on the Windsor Neckwear website, where you will see ties styled with jeans, sweater vests, and three-piece suits.
So, what's next for Windsor Neckwear?
Be on the lookout for socks and shirts from Windsor Neckwear, and from its Alfred Edmond Jr. Bow Tie Collection, no doubt there will be handkerchiefs, cufflinks, double sided bow ties, and braces.
As for the ladies, Crystal Henderson did get the Windsor Neckwear team thinking about scarves and perhaps, bow ties for women.