Adidas Drops Plan to Sell Sneakers That Invoke Image of Slavery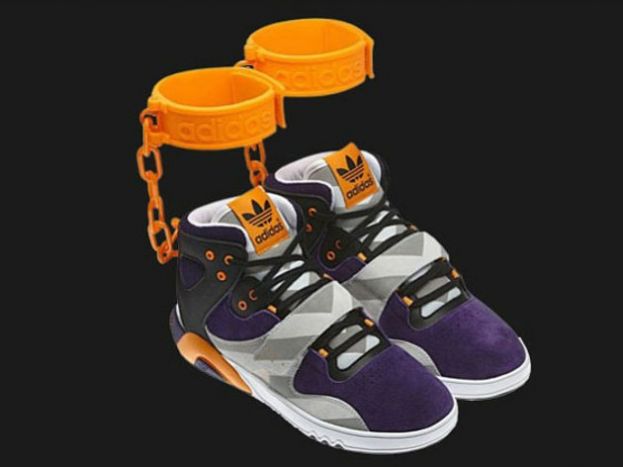 Adidas planned to sell these sneakers dubbed shackles that invoke an image of slavery
Seeing young Black men walking with sagging pants invokes an image of slavery in many people. However, German sports apparel maker Adidas decided to complete the look with a new sneaker dubbed the JS Roundhouse Mids aka Shackles.
With outrage mounting, Adidas withdrew its plans to sell the controversial sneaker featuring affixed rubber shackles. Adidas generated significant criticism when photos of the shoe hit its Facebook page.
The JS Roundhouse Mids, were expected to be released in August, according to the Adidas Originals Facebook page.
"Got a sneaker game so hot you lock your kicks to your ankles?" a caption below a photo of the sneakers read.
The June 14 post prompted plenty of criticism from around the web, with many of those commenting saying they felt the shackle invoked the painful image of slavery.
One of Adidas' most high-profile condemnations came from the Rev. Jesse Jackson.
"The attempt to commercialize and make popular more than 200 years of human degradation, where blacks were considered three-fifths human by our Constitution is offensive, appalling and insensitive," Jackson said in a statement Monday, prior to Adidas's decision to withdraw them from the marketplace.
The photo could still be found in the photo section of Adidas' Facebook page Tuesday morning. And whether Adidas wanted it or not, the sneakers were still inspiring a spirited debate about race in the comment section of its Facebook page.