Brian Smith is Designated Hitter for New York Yankees at 3rd Annual Major League Baseball Diversity Summit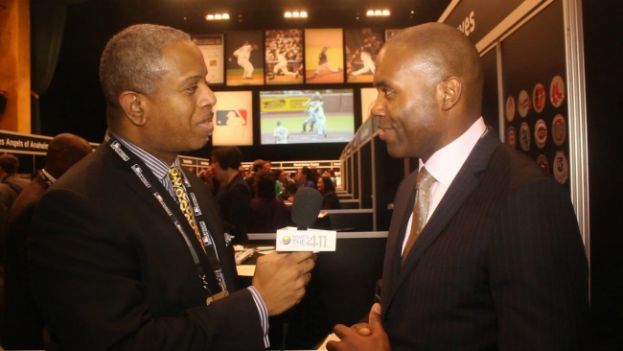 Photo Credit: Alexis Williams/What's The 411 Networks
Brian Smith, New York Yankees, Senior Vice President, Corporate and Community Relations, talking with What's The 411Sports, Glenn Gilliam, about the New York Yankees involvement with MLB's Diversity Summit and the Bronx community
As the Co-Host with Major League Baseball, the New York Yankees were instrumental in bringing the 3rd Annual Major League Baseball Diversity Summit to New York and their Senior Vice President Corporate/Community Relations, Brian Smith, tells me how it came together.
Check out the video interview with Brian Smith
To see our videos when they are posted, subscribe to our YouTube channels: WhatsThe411TV and 411SportsTV
=================
Brian Smith: Good to see you, we're honored to be here today, this is an amazing event as you can see the turnout, tons of people here, jobseekers and vendors and we're looking forward to be a productive two days here at this summit.
Glenn Gilliam: Were you guys instrumental at all in making sure it came to New York this year?
Brian Smith: We had some conversations in house and we went back and forth with MLB and we decided that this is something we're committed to on a day in, day out basis and it would be a great thing to bring it here to NY. We were excited to partner with MLB, Wendy and her team to make it happen.
Glenn Gilliam: Are the Yankees involved in outreach to other diverse pockets like RBI?
Brian Smith: Across the board there's a push to promote and sustain an inclusive environment and when we mean that, it's not only for the job seekers, for the vendors, it's for our neighbors. We have to provide access and if you don't you're not a productive neighbor and we're committed to being a productive member of our community. We do that by hosting events at the Stadium, I was talking to some teachers a couple of weeks ago and they said the most exciting classroom in New York City is Yankee Stadium, where we host diversity business initiative, where we engage local youth to expose them to careers in the professional sports field.
In addition, through our program such as Healthy Home Plate, where we take young people in from our community who are recognized, you know unfortunately our community is recognized for a number of areas where we're in first place where you're not excited about. For example there's Juvenile Diabetes, Stage 2 Diabetes in Youth, obesity and asthma. We came up with this Healthy Home Plate initiative where we turn Yankee Stadium into a classroom, to educate these young people on healthy lifestyle initiatives, where we bring them in on a consistent basis. So these types of programs and that ongoing commitment by the organization and that push from the ownership down to be a productive member and a cordial and cooperative neighbor, that's our day to day focus.
Glenn Gilliam: Are you a native New Yorker?
Brian Smith: I am from NY, I grew up in Mt. Vernon, NY and because of our organization providing access, a young African American male that grew up on the south side of Mt. Vernon has the opportunity to talk to you today as the Senior Vice President Corporate & Community Relations for the NY Yankees.
Glenn Gilliam: Are you friends with fellow Mt. Vernon, Yankee fan, Denzel Washington?
Brian Smith: No, he's a little older, more around my sister's age, but I know he is a big Yankees fan and we appreciate it and I've seen him around with the NY on his hat and we thank him for that.
Glenn Gilliam: Where did you go to school?
Brian Smith: I'm a graduate of Mt. Vernon HS and I went to undergrad and grad school at the University of Tulsa in Oklahoma.
Glenn Gilliam: What took you out to Oklahoma?
Brian Smith: I was fortunate as a student-athlete I excelled playing and did decently in the classroom and excelled as an athlete on the football field and I was provided the opportunity to get a full football scholarship to the University of Tulsa and I was recruited by a number of other schools and I said I'm going to get away. And the young kid from New York went to Oklahoma and it all worked out well.
Glenn Gilliam: Where were you before coming to the Yankees?
Brian Smith: When I finished grad school I was briefly with SoBRO, South Bronx Overall Economic Development Corporation, I was a case manager and a teacher but I knew I wanted to get into the sports industry. I still had that drive to work and be involved with sports and I was able to make some contacts and got in front of some Yankee personnel and got my foot in the door as an intern.
Glenn Gilliam: What do you expect from this summit and where do you hope it goes for future years?
Brian Smith: As far as this summit, I wish everybody in attendance a productive two days, I want to see people coming out of here with not only securing jobs opportunities and vendors securing opportunities, I want people to come out of here saying this is amazing, how can I continue this push and this drive and just to be a part of that is incredible. We want to see this grow not only today but on an annual basis.