Derek Fisher is Fishing in NYC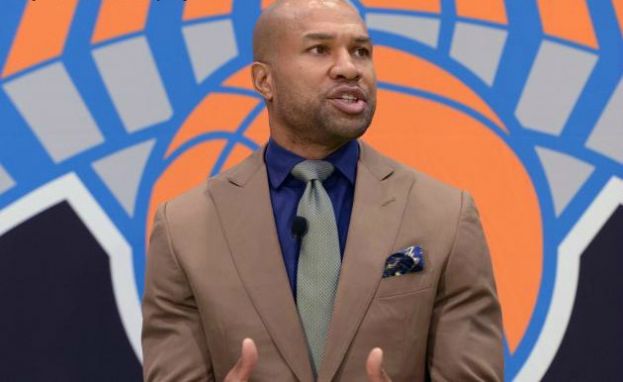 Derek Fisher speaking to the New York media after being named head coach of the New York Knicks
Phil Jackson Selects Derek Fisher to Coach New York Knicks
June 10, 2014 signaled a date in New York Knicks history that we can actually acknowledge as the start of the Phil Jackson era, finally.
As we all know by now, Jackson was appointed the President of Basketball Operations for the Knicks earlier this year. As good as it felt to have the knowledge that Jackson, the owner of 11 championship rings as a coach was joining the Knicks in a management role, overseeing basketball operations, there is still a bit of uneasiness. Yes, there is nervousness because we have no evidence that his great coaching will translate into great management.
Although, Jackson relieved then Knicks Head Coach Mike Woodson as one of his first orders of business. Hiring Woodson's replacement was a little problematic, as Jackson's first choice, Steve Kerr, a TNT basketball color analyst, bowed out and signed on with the Golden State Warriors.
But, June 10, 2014 signaled a day when Jackson stepped forward into the future of the Knicks franchise making his presence felt in NY besides occupying a seat at an occasional Knicks home game. He hired a coach. He hired someone he could trust. He hired someone who knows his basketball philosophies. He hired someone he has coached and he hired someone he has won championships with. He hired Derek Fisher. On June 10, 2014 it became official that Derek Fisher would become the newly minted Knicks floor manager from the bench,
It makes sense. After failing to lure Kerr, his initial target, Jackson went with the next best thing. In seeking the right candidate to fill the shoes that Jackson has mastered as a head coach, Jackson required a young mind, someone he has ties with and is also comfortable with, and most importantly, someone who understands the triangle offense, the coaching strategy that Jackson has implemented throughout the duration of his head coaching career.
Fisher fit the bill. Is this hiring a result of the success that first-year head coaches have enjoyed in most recent times? It's difficult to dismiss what Jason Kidd has accomplished in the neighboring borough of Brooklyn. Kidd steered the Nets to 44-38 finish, earning a second place finish in the Atlantic Division, as well as a trip to the second round of the 2014 postseason.
How about Jeff Hornacek in Phoenix? He transformed a team that only won 25 games during the 2012-13 Season into a team that won 48 games this year. Not to mention David Joerger who spearheaded the Memphis Grizzlies attack, exceeding Hornacek with 50 wins. Those are just a couple of examples, but I think in the eyes of someone like Jackson, he seems like the kind of guy who will do exactly what he wants to do, and in adding Fisher he did just that.
For those who do not know Derek Fisher, he is a native of Little Rock, Arkansas. He played collegiate basketball at the University of Arkansas for four years and is a member of one of the most celebrated draft classes in NBA History. Fisher holds a career average of 8.3 points and 3.0 assists. Fisher didn't exactly light the world on fire during the NBA season, but the reason why he is a household name is because of what he was capable of producing when the lights shined the brightest. I'm referring to the NBA postseason. That's how I will remember Fisher. Fisher possesses NBA records of 259 playoff games played, winning 161 of those games. He has five rings to serve as evidence. Some would even argue that other than Shaquille O'Neal, Fisher played a pivotal role in aiding Kobe Bryant to secure the championships he won early in his illustrious career.
For all the key defensive stops, steals, big shots and breakout performances Fisher has accumulated throughout the NBA postseason, one particular series of events stands out more than most. The 0.4 shot. During Game 5 of the 2004 Western Conference Semifinals against the San Antonio Spurs, Fisher, then suiting up for the Los Angeles Lakers, down 73-72 caught an in-bound pass from teammate Gary Payton, only to catch the ball, turn and force a shot up all within 0.4 seconds to give the Lakers a 74-73 win, and a 3-2 series lead.
Fisher delivered a 100% effort every night he stepped on the court whether it was defensively, doing the dirty work or guarding the opposing teams best perimeter player. When called upon he responded, and there's no reason why I feel that he won't do the same as a coach. Fisher was tough, strong-minded, a character guy and a competitor, all characteristics we can expect will allow Fisher to make a smooth transition to the bench, this time around wearing a suit. Fisher is well respected around the league, and beloved by all of his peers.
"He's a smart guy, smart mind," says Oklahoma City Thunder star Kevin Durant to Marc Berman of the New York Post. "He's a great motivator, great speaker and can really relate to a lot of guys and demands that respect from everybody," Durant continues.
"I think he can be a great coach," TNT analyst Reggie Miller expressed during the Spurs and Thunder playoff series.
As Fisher is small in stature, his heart made up for his lack of size displaying an all for one team basketball inspired play that generates interest and support. If that doesn't influence your belief in the job that Fisher is capable of doing, look no further than his introductory press conference held by the New York Knicks at their training facility.
"I look forward to sharing my experiences with my players, and helping to reestablish a championship culture," says Fisher while addressing the NY media in attendance.
Here's another one. "This is not for Phil and I to just hang out again as friends," says Fisher, in which he concludes that statement by adding, "We want to add more banners to this ceiling here."
How Fisher and Jackson will go about their business in doing so is intriguing and yet worrisome, but the power, sternness and matter-of-fact tone in which Fisher articulated throughout his press conference leads me to believe that he will do just that. I'm encouraged. The only problem facing Fisher is the obvious fact that he has never coached before on any level. He has never occupied the bench as an assistant head coach or even as an intern.
Jackson made it clear that in the beginning of Fisher's tenure in New York, he will be very hands-on, most notably participating in their training camp where Jackson expressed that a co-op operation will be in effect. Fisher has to gain the respect of his players.
He's Fisher and certainly not Kidd. See Fisher wasn't a superstar in this league the way Kidd was. As head coach, Kidd received near instant credibility from his players. Fisher will have to earn his. I believe he can do it. I believe in Fisher. I believe that he can mold the Knicks to play like champions like he once did. I believe a Fisher coached team could exhibit the same characteristics that Fisher displayed while he graced the hardwood as a player in being strong, tough, defensive minded, as well as, adopting and instilling an all-team mentality.
It's hard to not believe in a guy who has won at the highest level attainable not to mention five times. When a deal like this comes into focus and becomes official, I have only one question for Jackson: Why wasn't Fisher the initial candidate?